Locus Robotics: redefining warehouses with autonomous robots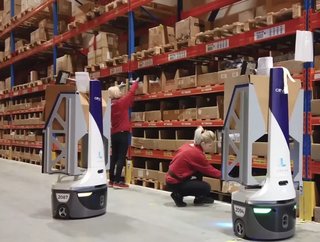 AI Magazine takes a look at Locus Robotics, a robotics company that looks to digitally transform e-commerce warehouses with its use of cooperative robots
Founded in 2014, Locus Robotics is a warehouse robotics company that manufactures autonomous mobile robots to support e-commerce. Its cooperative robots operate alongside workers in the logistics and fulfilment industries.
Locus' intelligent automation increases worker productivity, lowers labour costs, and seamlessly scales as customers' needs change. By digitally transforming these industries with robotic technology, workers can enhance decision making, improve operations and reduce costs.
The multi-bot picking system enables individuals to do work easier, faster and more accurately. By introducing the LocusBots into e-commerce warehouses, unproductive walking time is eliminated improving productivity and lowering cycle times.
Adding to this, Locus also improves workplace ergonomics, health safety and helps with worker recruiting and retention.
As the LocusBots transport the items, workers don't have to push carts or carry bins and as a result, they become more productive and less fatigued. That translates to lower labour costs and higher employee morale.
Locus Robotics: responding to demands in e-commerce with cooperative robots
Locus seamlessly scales as the customer grows and lets them easily manage peak periods and volume increases without major capital expenditures or infrastructure changes.
Retail and e-commerce have to respond to fluctuations in volumes, experiencing peak periods such as Black Friday and Cyber Monday. Locus' technology scales as needs grow without adding expensive capital investment.
With a deep warehouse heritage and in-depth, first-hand experience with the development and evolution of warehouse automation, the company's founders were early adopters of robotics technology to improve warehouse productivity.
After quickly discovering how this technology can transform the industry, the company set out to create a new approach to e-commerce fulfilment. Its powerful and intelligent autonomous solution breaks out of the limitations of capital intensive, grid-based automation systems and meets the needs of today's complex and demanding e-commerce environment.
The end-to-end system is designed not to replace workers, but to work collaboratively. Working safely alongside people, Locus' robots provide a mix of power and flexibility to support staff as they respond to growing product inventories. 
Highlighting the success of cooperative robots for e-commerce 
Just last year, the company acquired Waypoint Robotics to accelerate its product roadmap. Through this acquisition, the company is now able to introduce product offerings that address customers' urgent and growing needs worldwide.
This includes serving industries with use cases requiring robots to handle larger, heavier payloads.
With the pairs combined engineering teams Locus are now working to integrate the product family. 
Now, the company has been chosen as a finalist for the 2022 IFOY Award for Autonomous Mobile Robot Solution in Dortmund, Germany.
"Locus Robotics is proud to be chosen to compete in the prestigious 2022 IFOY Awards for the first time," said Rick Faulk, CEO of Locus Robotics. 
"Today's AMR technology has quickly become a valuable resource driving warehouse efficiency and scalability," he added. 
Locus Robotics will compete in person at the IFOY Audit starting on March 18th in Dortmund, Germany. All finalists will go through a three-stage IFOY Audit during the international IFOY Test Days. 
In the IFOY Test, experts use a standardised procedure to measure the key figures of the finalists. Winners will be announced at a special gala event following a detailed, 2–week evaluation period.