Three companies revolutionising advertising with AI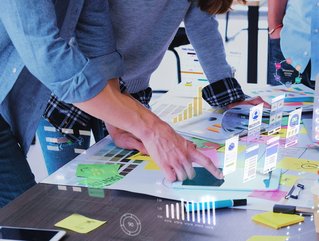 As AI technology continues to revolutionise the advertising industry, we look at how IBM, Google and Salesforce are driving forward AI in advertising
Four years ago, Lexus released an advertisement scripted completely by AI using IBM Watson which analysed 15 years of different car ads. To make the advert successful, the AI system identified which elements of successful ads resonated most with audiences.
Now, AI is quickly becoming an important part of the advertising industry as it is being used to identify and segment audiences, build ad creativity, test ads, improve ad performance, and optimise spending.
AI specialist Andrew Ng in his AI for Everyone course, stated that AI and advertising is a major business opportunity.
IBM Watson Advertising: creating opportunities with data and AI
Empowering companies to fine-tune their marketing strategies with AI, IBM's AI assistant, Watson, locates prospective audiences, selects relevant creative content and engages target audiences in one-on-one conversations.
With these capabilities, businesses are able to find better ways to spend their marketing budgets while shaping ad campaigns around audiences' interests. IBM has a whole suite of advertising solutions, for weather targeting, IBM helps customers use weather and AI to anticipate consumer behaviour, drive action, and deliver ads when and where it matters most.
IBM Watson also offers an advertising accelerator that uses real-time data signals and AI to predict and assemble the optimal combination of copy and creativity to drive engagement and conversion.
Marketing Cloud Advertising with Salesforce
CRM solution company, Salesforce, enable customers to integrate their digital advertising with their marketing and CRM data to build personalised customer experiences. By harnessing customer data, Salesforce empowers marketers to drive Google, Facebook and display advertising securely and at scale.
All data available in Salesforce's Marketing Cloud, Sales Cloud, and Service Cloud can be utilised to help shape and guide advertising. With its solution, the world's top brands trust Salesforce to protect customer data and to be available anytime.
Marketing Cloud Advertising enables users to find new customers with lookalikes, align email and advertising campaigns, re-engage inactive subscribers and suppress ads to existing customers.
Growing your business with Google Ads
Alphabet's Google helps customer grow their business with its AI-powered advertising solution. Its responsive search ads enable marketers to enter up to 15 headlines and four description lines.
With the Google Ads feature, entrepreneurs can tailoring their ads to geographic range, budgetary needs and other factors. This tool also pairs well with Google Cloud, which relies on AI and machine learning to deliver even more in-depth audience insights to marketers.
The solution drives website visits, grow online sales, booking, or mailing list signups with online ads that direct people to websites.