Dell, H2O.ai and ISG: driving automation in SMEs with RaaS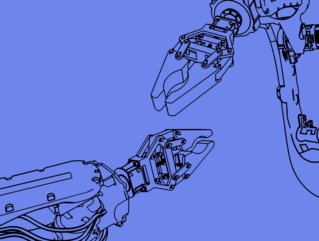 The need to automate processes is more important now than ever; the RaaS model is enabling smaller businesses to accelerate their use of robotic technology
Like other shared services, Robots-as-a-Service (RaaS), is becoming increasingly popular due to its convenience, as well as being cost-effective and easy to implement. A flexible solution, it enables organisations without the know-how or in-house resources to maintain robotic solutions for their automation needs.
RaaS could be the natural progression of cloud computing, as it follows the seemingly widespread adoption of Software-as-a-Service (SaaS), Platform-as-a-Service (PaaS) and Infrastructure-as-a-Service (IaaS). Cloud computing blocks are already in place for many organisations, so the foundation for RaaS has been perfectly set for the model's increased use.
Since the pandemic, businesses have recognised the acute need to prioritise liquidity and move away from capital expenditure-oriented technology acquisition strategies. Instead, companies have been turning to these 'as-a-service' models, particularly as businesses race to expand their industry 4.0 initiatives and digital transformation strategies.
As adopting smart robotic technologies requires companies to part with a significant chunk of their financial resources – and that's before the cost of ongoing lifecycle management and maintenance is taken into account – a RaaS solution also means companies have no need to invest in costly infrastructure.
"This allows the organisation to focus on its capital and human resources on further business improvement whilst it continues to deliver innovation and value to its customers. It also makes technology accessible to even small organisations, allowing it to be scaled up and down as needed," explains Arash Ghazanfari, CTO, UK, Presales, at Dell Technologies.
By removing the need for the skillset or financial resources required, which some organisations won't have, RaaS also speeds up the delivery of these capabilities to many by providing integrated robotic-based solutions, with the added bonus of service management.
"In the right circumstance, RaaS is a perfect model. Although initially geared towards the SME market and those that have started but found they are inefficient with their licences, the true flexibility and cost models have become at least an interesting alternative to either on-prem or cloud install on their own," adds Wayne Butterfield, Global Head of Intelligent Automation Solutions at ISG Automation.
Integrating AI into RaaS for widespread automation
Despite the cost, convenience and implementation benefits, Butterfield is apprehensive about this model's impact on enterprises in the years to come, as he outlines: "Until this model is truly adopted by the main RPA players, it is unlikely (at least in larger organisations) that this model will take off any time soon in those who have already adopted RPA."
He did note, however: "As the secondary market becomes more of a force and fixed licence/hosting costs do become more challenged via the RaaS model, we could see a whole load of new adoption from both the SME market and the latecomers, who, to date, have been hesitant to start due to the reasonable investment that is needed to get going. Most users of RaaS are either first-generation consumers of RPA or 2nd generation who have been stung by a fixed set of costs that have meant their benefits case has been weakened. This is mainly due to poor execution of the process pipeline creation that has not lent itself to making the most of RPA."
Although it may not be the best fit for all organisations, there is no doubt that the market is growing as research has found the RaaS market is set to grow by US$832.77mn from 2020 to 2024.
H2O.ai's Prashant Natarajan, Vice President of Strategy and Products, believes at AI-driven, self-learning RaaS solutions will be fueling the future of automation, he explains: "We are seeing RaaS – encompassing data, AI, and workflows – becoming more attractive from an economic perspective for buyers; specifically, the preference for using opex versus large capex. Secondly, RaaS is becoming popular as an option for many robotics equipment manufacturers and providers, allowing the buyers to get the economic efficiencies and pros (and cons) of other cloud computing models/solutions."
"RaaS can enable better user and customer experience, increased security, improved efficiency with respect to maintaining all your firmware by being able to push updates and manage the operations," he adds. "Finally, RaaS allows you to properly use data at a very deep and granular model, and so go from siloed physical and software systems that do not take advantage of learning and scalability that happens across a distributed network to a much better, integrated model."
Integrating a RaaS model with AI self-learning capabilities is essential as with more AI, automation becomes more widespread as customers are not limited by the cost pressures of investing in both traditional RaaS solutions, with automation products and platforms on top of that.
"We have seen multiple times from our customers' experiences that the true operations and process learning can only be achieved by leveraging both machine learning and deep learning across business processes and varied data at scale. AI has already shown the results in how it can dramatically improve business value, operational efficiency, and total cost of ownership, compared to any rules-based RaaS, or RPA + RaaS system," notes Natarajan.
Concluding, Dell's Ghazanfari expresses a note of caution: as with all different solutions, businesses need to be agile to respond to changes in the market. "RaaS is an evolving area. As with any as-a-service consumption model, it is important for organisations to have a clear view of their exit strategy. The adoption of open frameworks and standards should be encouraged so that organisations avoid getting locked into a proprietary platform as much as possible to maintain control and flexibility over their business architecture."