World leaders gather in UK for first-ever AI safety summit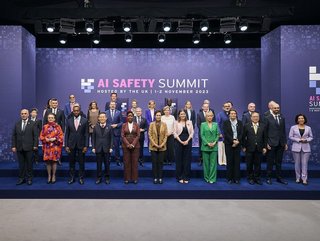 AI leaders gather for the world's first AI Safety Summit. Pic: Marcel Grabowski / UK Government CC BY 2.0 DEED
As AI leaders gather for the world's first ever AI Safety Summit, it is crucial to emphasise the importance of responsible regulation relating to AI
The world is undergoing a huge digital transformation. For the first time ever, prominent AI nations, including the US, EU, Australia, and China, were brought together by the UK on Wednesday 1 November 2023, for a world-first AI safety summit at Bletchley Park, achieving a ground-breaking understanding.
The declaration, referred to as the Bletchley Declaration on AI safety, sees 28 countries from various regions worldwide agree on the urgent need to collectively understand and address the potential risks of AI. It will ensure that going forward the development and deployment of AI is taking place in a safe and responsible way for the benefit of the global community.
UK Prime Minister, Rishi Sunak, says: "This is a landmark achievement that sees the world's greatest AI powers agree on the urgency behind understanding the risks of AI – helping ensure the long-term future of our children and grandchildren."
A world first in AI
To mark the opening of the summit, His Majesty The King delivered a virtual address as the proceedings began. In his address, His Majesty emphasised that AI represents one of the most significant technological advancements in human history and praised its vast potential to revolutionise the lives of people worldwide.
The Declaration fulfils key summit goals by establishing shared understanding and responsibility for the risks, opportunities, and international collaboration on frontier AI safety and research, especially through greater scientific collaboration.
Significant leap or potential threat?
Recognising the serious need to further the understanding surrounding the risks and capabilities of AI, many industry leaders provided their thoughts, highlighting the major concern that this technology could present not only a significant leap forward but also a potential threat to humanity, whether through intentional or unintended actions.
Attending the summit was CEO of Tesla, Elon Musk, who described AI as "one of the biggest threats to humanity." He said "I mean, for the first time, we have a situation where there's something that is going to be far smarter than the smartest human. So, you know, we're not stronger or faster than other creatures, but we are more intelligent. And here we are, for the first time really in human history, with something that's going to be far more intelligent than us."
Michelle Donelan, the UK Secretary of State for Science, Innovation and Technology tried to find a middle ground between risk and opportunity during the summit; a challenging task in the midst of official statements warning about the potential disasters and discussions around bioweapon attacks. When asked if AI would disrupt jobs, she explained: "I really do think we need to change the conversation when it comes to jobs … What AI has the potential to do is actually reduce some of those tedious administrative part of our jobs, which is particularly impactful for doctors, our police force, our teachers."
The general consensus surrounding AI
Sharing on his LinkedIn page, Scott Petty, CTO of Vodafone wrote: "As leaders in Artificial Intelligence meet for the AI Safety Summit, it's important to underline the need for responsible regulation. Vodafone has used AI for years and it is now embedded in 120 different functions across the company.
"This work is guided by our ethical AI framework. We should learn from our collective mistakes regarding social media platforms (hate speech, cyberbullying), and focus on the real and immediate risks of AI, and the routes to finding effective mitigations. The ideal outcome of this meeting would be to achieve consensus on how best to collaborate."
Sharing his thoughts on the summit, Dr Christian Guttmann, VP of Engineering, Decisioning and AI at Pegasystems, said: "Getting this agreement looks impressive because of the signatures from the major AI powers of US, EU and China. Let's hope this means the guidance the AI industry and end users are seeking is consistent and robust while allowing innovation and invention.

"The focus on frontier AI is what was expected but it does nothing to address the challenges of AI today. There's also too much of an air of dystopian scaremongering and culture war point-scoring being made. Not all AI is risky or bad and there are plenty of examples of AI being used every day to do good work across sectors as varied as banks, insurers and the health service."
Cecilia Harvey, Executive Leader and Founder of Tech Women Today, commented: "AI governance is not a one-time event. It necessitates continuous adaptability to new capabilities and hazards. I'm glad to see they're taking it seriously, but some governments are already playing catch-up.
"The Prime Minister's call to create an AI equivalent of the Intergovernmental Panel on Climate Change is a welcome one but we need more than annual reports, summits and progress check-ins. To be a real leader in the field, governments need to be in the driving seat - working collaboratively with the private sector organisations that have been embracing and shaping AI for years.
"To echo the Prime Minister's words, we can't bury our heads in the sand to the potential detrimental social and environmental effects of AI. But in the pursuit of responsible AI governance, let us remember that we are not just shaping technology; we are shaping the future. Together, we can ensure that AI is a positive force that improves our lives and the globe."
******
For more insights into the world of AI - check out the latest edition of AI Magazine and be sure to follow us on LinkedIn & Twitter.
Other magazines that may be of interest - Technology Magazine | Cyber Magazine.
Please also check out our upcoming event - Net Zero LIVE on 6 and 7 March 2024.
******
BizClik is a global provider of B2B digital media platforms that cover Executive Communities for CEOs, CFOs, CMOs, Sustainability leaders, Procurement & Supply Chain leaders, Technology & AI leaders, Cyber leaders, FinTech & InsurTech leaders as well as covering industries such as Manufacturing, Mining, Energy, EV, Construction, Healthcare and Food.
BizClik – based in London, Dubai, and New York – offers services such as content creation, advertising & sponsorship solutions, webinars & events.