Dubber unlocks productivity market for service providers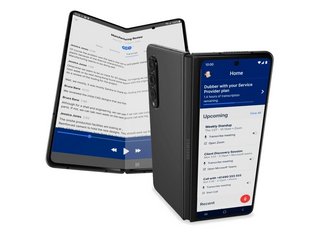 Dubber has unveiled its Notes by Dubber for Service Providers at Mobile World Congress to unlock billion-dollar productivity market for service providers
Held in Barcelona, Mobile World Conference 2022 (MWC22), is where world-leading companies and trailblazers share the latest thought leadership about the progression and future of connectivity.
At the conference, Dubber, the unified call recording service provider, unveiled a revolutionary demonstration of Notes by Dubber. Notes by Dubber seamlessly integrates with mobile and communication networks operated by service providers as well as unified communications services such as Zoom and Microsoft Teams.
With this new solution for service providers, Dubber unlocks a billion-dollar productivity market opportunity for the industry.
Notes by Dubber is a collaborative digital meeting and call organiser and notetaker. This software offering provides captures conversations across mobile and Unified Communications platforms, generates automatic notes, themes, summaries, and action items, plus provides a workbench for collaboration before, during and after meetings and calls.
"Since the acquisition of Notiv, we have been working hard to enrich features and make Notes by Dubber a valuable offering within any service provider network," said James Slaney, COO of Dubber.
"The scalability of Dubber's core recording and AI platform means we can deliver Notes by Dubber instantly to millions of devices at a highly attractive price point to service providers, and then through our Foundation Partner model, turn what is a marginal cost into a powerful source of revenue. Unlike other freemium offerings that impose limits on customers, our embedded version of Notes by Dubber for Service Providers will deliver immediate value to users and immediate differentiation and customer retention for service providers. This will lead to new sources of revenue that will dramatically enhance a service provider's value proposition with customers and, ultimately, significantly boost ARPU," he added.
Providing significant benefits to service providers with Notes by Dubber
Available to Dubber Foundation Partners globally, the Notes by Dubber application can provide significant productivity benefits to a large proportion of business customers on service provider networks.
By giving service providers the ability to add an embedded Notes by Dubber version into their services enables them to create immediate opportunities for revenue, differentiation and improved customer retention.
Customers can upgrade with a click to access valuable functionality that assists users via artificial intelligence (AI) to take notes and track actions It can also collaborate and share notes and actions, creating a highly attractive and "sticky" source of recurring revenue.
As well as this new offering, at the event the company also unveiled a revolutionary demonstration with Samsung, highlighting the power of Dubber's platform with Notes by Dubber.
The demonstration showed the platform can actively take notes for a user's mobile calls and utilise the functionality specific to Samsung devices to enhance the user experience, driving productivity.