Epson announces updates its T-Series robot line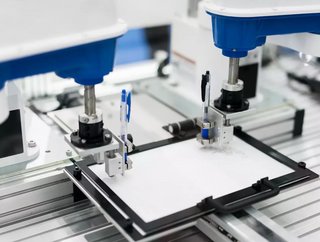 Leading Selective Compliance Articulated Robot Arm (SCARA) robot manufacturer, Epson has announced new updates to its T-Series line with the T3-B and T6-B
Epson's new easy to use T3-B and T6-B SCARA robots offer exceptional value to ease automation for new entrants and advanced users.
This announcement comes as the uptick in automation continues and companies are seeking to update manufacturing processes in order to meet production demands. 
Adding to this, manufacturers aim to improve value, manage costs effectively and ensure employee safety, all of which robotic technology can support.
"Ease of use in robotics is more important than ever and the new T-B Series SCARA models bring exceptional value without compromise to both new entrants and advanced manufacturers," said Scott Marsic, group product manager, Epson Robots. 
Continuing, he said: "Epson strives to simplify automation for all users and the new T3-B and T6-B are designed to provide uncomplicated solutions with productive outcomes. Paired with the no-code Epson RC+ Express software, users can add the robots to automation systems in no time."
The growth of robotics in manufacturing
Many leaders in robotics have shared how they believe 2022 will see more demand for flexibility and more businesses embracing robotics.
As artificial intelligence (AI) improves the ability of robots to adapt and complete more complex tasks, this technology will enable the manufacturing industry to move beyond traditional means.
It is also expected that robotic technology will transform logistics, warehouses and laboratories.
Supporting this shift in the industry, Epson has updated its T-Series line of robots. The new T3-B and T6-B All-in-One SCARA robots offer high-quality and high-performance at an exceptional value.
The new robots will simplify both complex and simple automation applications such as packaging, pick and place, dispensing, and inspection. 
Including the same intuitive software, powerful features and reliability found in Epson's high-end robots, these new all-in-one industrial robots keep the total cost of ownership low in industries. These industries include: 
Automotive

Medical development 

Lab automation

Consumer electronics

Electronic components 

Industrial 
Epson's easy to install SCARA robots
With its space-saving design, Epson's new SCARA robots include a built-in controller housed in the robot's base with power for end-of-arm tooling. The T3-B and T6-B are also compatible with Epson's suite of integrated options including vision guidance, IntelliFlex parts feeding, teach pendants, and field bus master and slave interface boards. 
Other updates include an improved form factor design and updated motion control for smoother, faster cycle times. The key features include: 
Easy to install and fast integration: the robots can be installed in minutes, unlike complex linear-slide systems and require less time and money for system integration

Value without compromise: the robots include the same intuitive software, powerful features and reliability found in Epson's high-end robots while helping to keep the total cost of ownership low

Standard 110 V and 220 V power: low wattage and power consumption (no special panel or plug required)

Built-in power for end-of-arm tooling: this eliminates the need for an external power source

No battery required for encoder: without the need for batteries, downtime is minimised and the total overall cost of ownership is reduced.