Flippy replaces fast-food folk who have other fish to fry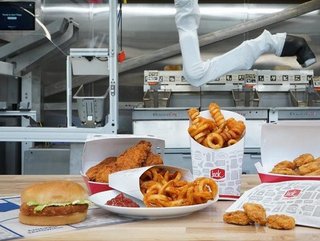 Cooking up a combination of machine learning, computer vision and data analytics, Flippy the robot could help fill the United Kingdom's fast food staff gap
A US-based company looking to transform the restaurant industry with artificial intelligence and robotic kitchen staff has launched in Europe and hopes to attract regional investors to its vision of an automated fast-food future.
Miso Robotics marked its UK launch with the installation of its flagship product, Flippy 2, in a Midlands fast food restaurant. The company has also extended its Series E round and hopes to raise £1.5 million in capital via the crowdfunding site Crowdcube.
Flippy 2, a robotics solution that carries out the work of a fast food fry station, has proven it can improve operations in fast food restaurants by decreasing order-to-delivery time, says Miso. The robot also frees up human staff members to focus on other tasks in the kitchen and restaurant that are less monotonous.
Robot staff can help fill hospitality skills gap, says Miso
With the UK takeaway food delivery market growing from £10.5 billion to £13.3 billion between 2021 and 2022, the industry is facing an employment gap that Flippy can help fill, says Miso, pointing to nearly 150,000 unfilled posts in the UK hospitality sector.
Flippy 2 is currently being used by American fast-food restaurant chains such as White Castle, Jack in the Box, Inspire Brands (the parent company of Buffalo Wild Wings, Arby's and Sonic), Wings and Rings and Wing Zone. The launch in the UK is Miso's first Flippy unit to be installed outside of the US.
Flippy has cooked over 182,000 kgs of fried food during nearly 31,000 hours of robotic cooking and learned to recognise and cook more than 45 food items, says Miso. Miso's AI-driven platform incorporates robotics, machine learning, computer vision and data analytics to power its products, including Flippy 2, CookRight and Sippy.
"Bringing Flippy to the UK is a true testament to all of the hard work our team has done from both an R&D and innovation standpoint," says Mike Bell, CEO of Miso Robotics. "We've been preparing for this moment for years and do not take it lightly."
Jacob Brewer, Chief Strategy Officer of Miso Robotics says: "This is an exciting step forward for the team, not least because we're launching internationally to strong demand from leading UK brands. We're hoping this partnership will be the first of many in the UK market."
Miso Robotics is primarily funded by nearly 25,000 individual investors, having raised more than $70 million globally in crowdfunding to date. Miso says it plans to use the additional funds from its Series E+ round extension to expand in the UK and elsewhere.