Artificial intelligence helps in hunt for synthetic blood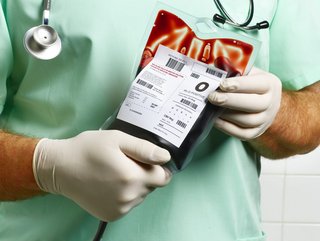 Sophisticated AI deployed on state-of-the-art experimental platforms is being used to create artificial blood products funded by DARPA in the United States
Cutting-edge AI technology is being used to help come up with a new artificial blood product, storable at room temperature, that could be used to save tens of thousands of Americans who bleed to death each year.
A University of Maryland School of Medicine (UMSOM) physician-scientist will head a new federally-funded research program to develop and test a whole blood product that can initially be used to transfuse wounded soldiers in the field within 30 minutes of injury, potentially saving thousands of lives.
UMSOM will manage the US$46.4 million four-year research project administered by the Defense Advanced Research Projects Agency (DARPA), in collaboration with the University of Maryland School of Pharmacy (UMSOP) and more than a dozen universities and biotech companies.
"We have assembled an outstanding team to develop a bio-synthetic whole-blood product that can be freeze-dried for easy portability, storage, and reconstitution," says study principal investigator Allan Doctor, Professor of Pediatrics and Director of the Center for Blood Oxygen Transport and Hemostasis (CBOTH) at UMSOM. "It will be designed for easy use in the field by medics at the point of injury and will perform like a traditional blood transfusion to, for example, stabilise a patient's blood pressure or facilitate blood clotting."
To achieve this goal, the program will employ sophisticated artificial intelligence, state-of-the-art experimental platforms, and multiple complementary animal models. The product will be tested for efficacy and safety in trauma victims with complex multiple injuries, including shock and traumatic brain injury.
Available donors present logistical challenges
Bleeding is the most common cause of potentially survivable death in trauma in both military and civilian settings. Whole blood transfusions remain the gold standard but present logistical challenges such as the dependence on available donors, the requirement for cold storage, and the limited viability of about 40 days. Rapid evacuation of patients who are rapidly bleeding out due to a gunshot wound or other trauma is not always an option. For this reason, there is an urgent need for an artificial blood product with a long shelf life that is easy to transport.
To conduct this project, Doctor has assembled a consortium comprising faculty members from UMSOM and UMSOP to work on the artificial oxygen carrier (red blood cell) component that he pioneered in earlier studies and on pharmacology, computational modelling, and machine learning to optimise the combined product, which will also include synthetic platelets and freeze-dried plasma.
This product will consist of ErythroMer, the artificial blood product made by KaloCyte, a company co-founded by Doctor in 2016 with bioengineer and synthetic chemist Dipanjan Pan, Professor in nanomedicine at Penn State University, and Philip Spinella, a military transfusion medicine expert at the University of Pittsburgh.
It will also include a synthetic platelet product developed by Anirban Sen Gupta, of Case Western Reserve University that is under development by Haima Therapeutics and a freeze-dried plasma product made by Telefex.
Doctor is a founding partner, Chief Scientific Officer, and Chair of the Board of Directors for KaloCyte, which could potentially benefit from this research. His interest in the company has been reviewed in accordance with the university's conflicts of interest policy to ensure objectivity in the research.
While UMSOM and UMSOP will be leading this effort, the consortium also includes leading scientists and complimentary experts from Case Western Reserve University, Charles River Laboratories, Latham Biopharm Group, Ohio State University, Pumas-AI Inc., Southwest Research Institute, University of California San Diego, University of Pittsburgh, Oregon Health Sciences University, University of Texas Austin and the University of North Carolina, in addition to the companies developing the bio-synthetic blood components themselves: Haima Therapeutics, KaloCyte, and Teleflex.
"About 20,000 Americans each year bleed to death before they can be brought to the hospital," says UMSOM Dean Mark T. Gladwin, Vice President for Medical Affairs, University of Maryland, Baltimore, and the John Z. and Akiko K. Bowers Distinguished Professor. "Transfusion at the point of injury is required to stabilise them and limit other organ injury. This project will utilise cutting-edge technologies like artificial intelligence to predict interactions among the blood components in various trauma model systems, which would not have been possible a decade ago."
DARPA's Fieldable Solutions for Hemorrhage with bio-Artificial Resuscitation Products (FSHARP) program aims to develop a field-deployable, shelf-stable whole blood equivalent that can be used to resuscitate trauma patients when donated blood products are not available. Other subcontractors have the potential to join the consortium pending the exercise of additional options in the FSHARP award.