"Augmented workforce" still finding its feet in shift to AI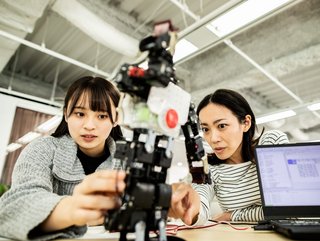 Credit: Taiyou Nomachi/Getty
Study by Bain & Company reveals four roles found in the new "augmented workforce," which are enabling companies to transition workers to jobs of the future
Companies worldwide are not making full use of automation and AI and underestimate the challenge of transitioning workers to jobs of the future, according to new research by Bain & Company.
Automation, artificial intelligence and the rise of the augmented workforce should lead executives to think differently about the value their employees contribute. Yet Bain's research and report - Automation's Ultimate Goal: The Augmented Workforce - found few companies are taking a fully strategic approach as they undergo automation transformations.
"Successful transformations will change the way employers manage and reward workers," says Rasmus Wegener, Partner and Digital Transformation Leader at Bain. "The real value of automation lies far beyond the traditional efficiency plays. When done right, automation enables employees to focus on truly human, high-value activities, creating what we call the 'augmented workforce.'
"Our research shows that many employees want to use automation, and that letting them do so will increase personal job satisfaction, improve customer experience and deliver better outcomes for shareholders."
In order to achieve successful transformations, companies must overcome the challenge of changing their workforce's habits. This is no small task and requires effective communication, support, and incentives. Bain emphasises the importance of a concerted effort to redesign processes, encourage participation, and reimagine how work is done.
According to the research, leading companies will create internal communities of expertise, while automating or outsourcing tasks that do not require as much problem solving, creativity, or interpersonal skills. This allows employees to focus on more mission-critical roles that require their unique skills and talents.
The study also found that top-performing companies allocate more than 90% of their top talent to mission-critical roles, while other companies only allocate 20% of their top talent to these roles. This highlights the importance of strategic talent management in achieving successful transformations.
Areas in which Bain says workers can benefit from automation include:
Problem solving - Companies can support workers with training in strategies that include establishing perspective, disaggregating problems, framing solutions and deploying analogical reasoning; all of which can greatly improve decision making.
Creativity - Everyday creativity required for success for the future jobs can be taught by introducing workers to the right techniques and tools.
Interpersonal communication - Empathy, introspection and behavioural adaptation will be increasingly important.
"While automation capabilities are underutilised, our research shows that only 12% of companies that are undergoing changes during major initiatives achieve their goals," says Ted Shelton, expert partner within Bain's Performance Improvement practice. "Successful automation programs depend on the support of the workforce, including contributors who can describe how processes can be improved, and creators who learn how to build simple automations that improve processes."
As companies adopt large-scale automation initiatives, Bain sees employees take on one or more of the following four roles that work to support successful transformations:
Contributors - Employees who are closest to a process are the ones who can usually describe how it can be improved.
Creators - Similar to "citizen developers," creators can build simple automations that improve processes.
Coordinators - Specialists who provide tools, education, support, and ongoing monitoring for everyone whose job is touched by new automation.
Consumers - Almost all employees are within this group, since automation touches nearly every role in one of two ways: scheduled automation provides information and insights to support good decision making, and on-demand automation triggers employee action.
According to Bain, companies that successfully transition to an augmented workforce prioritise two crucial activities. Firstly, they align their business and technology on a plan to create new value for both the company and employees. This involves developing a plan for creating value that integrates automation goals with the company's overall strategy, as well as selecting appropriate technologies and vendors to support employees during the transformation process. Secondly, they ensure that workers have the necessary tools and programs to thrive in this new work environment.
To ensure that automation initiatives benefit all stakeholders, companies should focus on delivering benefits for customers and workers, mitigating risks, and providing career opportunities and rewards.
Although automation transformations can be time-consuming, it's important for companies to be supportive of their employees and to encourage them to transition to richer and higher value tasks. When setting automation goals, companies should aim high, while also considering the amount of change and time required for full implementation, and balancing this with their business aspirations.
"Companies should begin by prioritising a few high-impact initial use cases to help the organisation see the value of automation," says Wegener. "A successful shift will leave employees feeling empowered."