Intel's Mobileye: leaders in ADAS and autonomous driving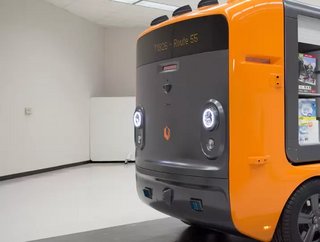 Following the announcement that Udelv's next-generation autonomous vehicle utilises the Mobileye Drive self-driving system, we take a look at the company
Udelv's new Transporter is expected to help solve two of the most pressing challenges facing commercial fleets today. The current shortage of drivers and the electrification of fleets. The new vehicle is designed for commercial delivery fleets.
By using the Mobileye Drive self-driving system, Udelv will be able to rapidly deploy the transporter at scale. This is supported by the company's integration of Mobileye's Road Experience Management.
The self-driving technology is powered by the Mobileye EyeQ 5 system-on-chip for automotive applications and a robust suite of cameras, lidars and radars. 
Featuring a patented cargo space that is secure, automated, hot-swappable and modular, the Transporter is specifically designed for autonomous delivery and can carry up to 2,000 pounds of cargo and makeup to 80 stops per run.
Intel's acquisition of Mobileye and growth into the States
Founded in 1999 by Amnon Shashua, Mobileye has experienced rapid growth over the past 20+ years, with its acquisition by Intel in 2017 acting as a key catalyst for growth.
Late last year, Intel announced its intention to take Mobileye public in the United States in mid-2022 via an initial public offering (IPO) of newly issued Mobileye stock. 
This move will unlock the value of Mobileye for Intel shareholders by creating a separate publicly traded company and will build on Mobileye's successful track record and serve its expanded market.
"Intel's acquisition of Mobileye has been a great success. Mobileye has achieved record revenue year-over-year with 2021 gains expected to be more than 40 per cent higher than 2020, highlighting the powerful benefits to both companies of our ongoing partnership," Intel's CEO Pat Gelsinger said. 
"Amnon and I determined that an IPO provides the best opportunity to build on Mobileye's track record for innovation and unlock value for shareholders," he added.
Two decades of state-of-the-art technology
As a global leader in Advanced Driver Assistance Systems (ADAS) and autonomous driving, Mobileye has over 1,700 employees continuing its two-decade tradition of developing state-of-the-art technologies.
The company is a Tier 2 automotive supplier working with all major Tier 1 suppliers, covering the vast majority of the automotive market.
Since its founding, the company's philosophy has been that if a human can drive a car based on vision alone, so can a computer. Mobileye recognises that cameras are critical to allow an automated system to reach human-level perception/actuation. 
This month, Mobileye will share its new innovations at CES 2022 and outline the groundbreaking technologies that are propelling the self-driving mobility revolution. To register, click here.