Unilever's Intelligent Powder Towers drive digital change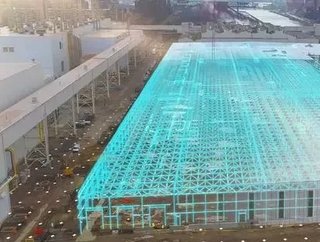 Unilever's production lines have been adapted using machine learning to allow remote use. But the benefits of 'Intelligent Powder Towers' don't...
Maintaining product quality is a defining pillar of brand building, and automated production to date has needed a helping hand from attentive humans. While the layman might see a manufacturing plant as a simple I/O with raw materials going in and finished products coming out, the reality is awash with skilled monitoring and adjustments to account for environmental factors, machine wear and other inconsistencies.
For companies such as Unilever, the Covid-19 pandemic has thrown it a challenge. It needs to maintain quality control in its products lines while keeping its workforce protected from exposure to the virus. That's why the household goods giant has created 'Intelligent Powder Towers'
What are Unilever's Intelligent Powder Towers?
Powder towers are an essential piece of the laundry detergent manufacturing puzzle. The ingredients for Unilever's laundry detergent powders, such as OMO, Comfort and Surf, are sprayed into the towers, which are blasted with hot air to dry it into a powder.
The moisture content of the powder is pivotal to product consistency and crucial to maintaining brand standards. Manual operators have historically controlled this balance in the towers, but as part of Unilever's digital transformation, the powder towers can now be controlled algorithmically.
The algorithms use artificial intelligence and machine learning to predict optimal operating conditions and simulate different scenarios.
Digital transformation driven by Covid-19
The Intelligent Powder Towers are part of Unilever's supply chain digital transformation, accelerated by the conditions created by Covid-19. The two powder towers that are part of its digital factory environment are in Indaiatuba, Brazil and Guayas, Ecuador. These can now be operated remotely, with staff able to oversee manufacturing while working from home.
And Unilever's Intelligent Powder Towers have gone beyond allowing flexible working models, enhancing the speed and agility of data transfer through the process, streamlining the manufacturing workflow.
"Now the technicians in the control room can focus on more strategic decisions regarding production and use data intelligence to improve the process, instead of having to constantly monitor each process parameter," says Daniel Correia, digital manufacturing manager LATAM, Unilever. "The insights are all in one place, accessible through a Power BI dashboard and the Unilever Digital Factory app, which enables faster decision making based on real-time data to optimise the performance of the tower."
The digital transformation, using technology such as Intelligent Powder Towers, will also allow Unilever to monitor manufacturing machinery from overseas, and to combine data from global operations to increase efficiency.