How Geek+ is leading the intelligent logistics revolution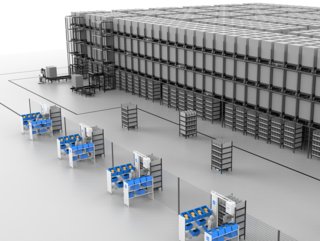 Following the announcement that Geek+ has launched a new warehouse storage and picking solution, we take a look at its work with AI and AMRs for logistics
Geek+ applies advanced robotics and AI technologies for flexible, reliable and highly efficient solutions for warehouses and supply chain management. Trusted by over 500 global industry leaders, the company has been recognised as a leader in autonomous mobile robots.
To shape the smart logistics revolution, Geek+ develops autonomous mobile robots (AMRs) that handle various tasks, including picking, moving and sorting. For the past three years, the company has led the global AMR market share for three consecutive years, being declared the world's no.1 AMR leader.
Since its founding in 2015, Geek+ has grown to over 1,500 employees with a global presence. Now, the company has offices in Germany, the United Kingdom, the United States, Japan, South Korea, China, Hong Kong and Singapore.
With its AMRs, Geek+ helps a number of big brands including Nike, Wal-Mart, Toyota and Siemens to optimise their logistic solutions. The company also works alongside Microsoft and Intel to ensure it will lead the next big revolution in supply chain logistics.
"Our R&D team is dedicated to providing the most effective solutions to retailers' warehouse pain points. Our approach has been to study our goods-to-person installations worldwide and conduct in-depth discussions with customers to further innovate in the space and develop the products that can fit their more complex needs. Goods-to-person is just the tip of the iceberg for what AMRs can provide to warehouse logistics. Geek+ intends to continue to set the innovation pace in the industry," commented Kai Liu, Geek+'s Co-Founder and VP of Picking and Smart Warehouse.
Geek+: smart logistics solutions powered by smart algorithms
Operating a Robot-as-a-Service (RaaS) business model means Geek+ can offer solutions that are both attainable and affordable to all businesses. RaaS helps customers effectively reduce initial investment and lower the entry threshold while improving the efficiency of robot use and reducing overall operating costs.
Among Geek+'s products is PopPick, a revolutionary, new goods-to-person solution, that pairs an upgraded moveable shelf carried by mobile robots with the industry's first dual-unit picking station.
This all-in-one solution combines picking and storing totes, shelves, and pallets. With advanced AI technology and smart AMRs, PopPick can increase warehouse picking efficiency to up to 650 totes per hour and optimise throughput capacity by a factor of 2.
The company also has its Goods-to-Person Picking solution that uses P series AMR picking robots to move the inventory shelves and pallets to the picking station. In doing so, it completely eliminates the redundant walking of the picking workers, improving picking accuracy, and reducing labour intensity.
All Geek+ products are empowered by its proprietary smart algorithms to achieve maximum efficiency while improving warehouse storage capabilities.
Recently, Geek+ announced the global launch of its multilevel storage and retrieval system: Sky-Storage & Ground-Pick.
The new solution uses Geek+'s X-series four-way shuttle robots to boost storage density while devoting the ground floor to picking operations entrusted to the flagship P800 robots.