Google invests in AI via global university partnerships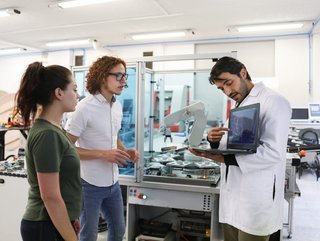 Expanding this partnership builds upon years of collaboration between Google Research, Google DeepMind and the University of Cambridge
Google has expanded upon its partnership with Cambridge University to fund a new AI research centre & continues to support the development of ethical AI
In its efforts to continue advancing AI that is responsible and globally accessible, Google is strengthening its partnership with the University of Cambridge by funding a new AI research centre.
The tech giant has said that the new partnership aims to encourage collaboration between researchers to design responsible AI to benefit people. Its grant will go towards the university's new Centre for Human-Inspired AI (CHIA) to support progress in collaborative AI that benefits everyone. It will also fund students from underrepresented groups to carry out PhDs within CHIA.
This builds upon Google's continued commitment to helping universities around the world to develop and build upon existing research towards creating ethical AI.
Developing AI research to benefit essential business sectors
The grant will help to enable the centre's AI research in areas like responsible AI, human-centred robotics, human-machine interaction, healthcare, economic sustainability and climate change.
It also aims to help broaden diversity in the AI research community through its funding PhD students from underrepresented groups who are carrying out crucial research - with the goal of building a stronger and more inclusive AI community.
Expanding this partnership builds upon years of collaboration between Google Research, Google DeepMind and the University of Cambridge. Google already provides funding for academic research, facilitates collaboration between faculty and Google researchers, as well as supporting exceptional computer science students through its PhD Fellowship Programme.
In addition, Google DeepMind has endowed the first DeepMind Professor of Machine Learning at the University of Cambridge's Department of Computer Science and Technology to help drive its machine learning and AI research.
Zoubin Ghahramani, VP of Research at Google DeepMind and Professor of Information Engineering at the University of Cambridge has led this expanded partnership. He says: "Google and the University of Cambridge share a deep commitment to developing AI responsibly, which means grounding innovation in scientific research, human values and our AI principles.
"We're excited by CHIA's potential to set new standards in responsible and human-centric AI development and unlock AI discoveries that could benefit everyone."
Google's commitment to universities to improve global technology
It is no secret that AI has huge potential to benefit humanity worldwide - either through improving daily life, or by tackling larger societal challenges. By collaborating with one of the leading universities in the world, Google hopes to enable AI research that is designed to meet the needs of all people across the country.
The partnership also reaffirms Google's commitment as a global AI and technology leader.
The company has also partnered with other global universities to fund important research into AI and machine learning systems. In May 2023, it announced a partnership with The University of Tokyo and The University of Chicago to support the commitment of both countries into quantum computing.
Google pledged to grant up to US$100m over a period of ten years, building on the diverse strengths of both universities and Google Quantum AI to invest in critical research topics and accelerate the development of a fault-tolerant quantum computer. The goal is to build a large-scale quantum computer capable of complex, error-corrected computations, as well as promoting quantum computing entrepreneurship and business and training workforces needed for the next generation.
CHIA will ultimately play a leading role in educating the next generation of AI researchers and leaders in this area and collaboration is crucial to its success. Professor Anna Korhonen, Director of CHIA, says: "Here at the Centre for Human-Inspired Artificial Intelligence our researchers are dedicated to making sure that people are put at the very heart of new developments in AI.
"As our first funding partner, Google has been with us from the start of our journey, helping enable the breakthrough interdisciplinary research that we do. Partnerships like this – between academia and industry – will continue to be vital for the successful development of human-inspired AI."
******
For more insights into the world of AI - check out the latest edition of AI Magazine and be sure to follow us on LinkedIn & Twitter.
Other magazines that may be of interest - Technology Magazine | Cyber Magazine.
Please also check out our upcoming event - Net Zero LIVE on 6 and 7 March 2024.
******
BizClik is a global provider of B2B digital media platforms that cover Executive Communities for CEOs, CFOs, CMOs, Sustainability leaders, Procurement & Supply Chain leaders, Technology & AI leaders, Cyber leaders, FinTech & InsurTech leaders as well as covering industries such as Manufacturing, Mining, Energy, EV, Construction, Healthcare and Food.
BizClik – based in London, Dubai, and New York – offers services such as content creation, advertising & sponsorship solutions, webinars & events.