The essential role of risk training in an AI world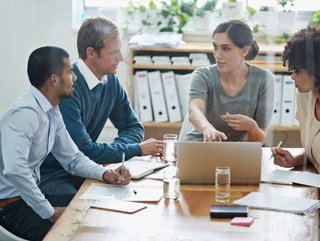 As artificial intelligence continues to become a part of our daily lives, equipping ourselves with proper email security training is essential
An evolving partnership between Egress and KnowBe4 has combined expertise to offer advanced AI-based email security and training to organisations
In today's rapidly evolving digital landscape, organisations face a multitude of challenges, from protecting sensitive data to safeguarding against cyberattacks. As AI continues to become a part of our lives, the importance of email and security training becomes increasingly crucial.
The threat landscape has entered a new era of cybersecurity threats, with cybercriminals leveraging sophisticated methods to exploit vulnerabilities and gain unauthorised access to sensitive information. AI-powered malware, phishing scams, and social engineering attacks have become increasingly prevalent, posing a significant risk to organisations and individuals alike.
The power behind a bi-directional API
In a significant step forward in the fight against cyber threats, software companies Egress and KnowBe4 have announced the latest update to their strategic partnership. This development aims to help organisations to identify and remediate human risk.
Leveraging the power of a bi-directional API, KnowBe4 now seamlessly integrates with Egress's cloud email security platform. This enables email threat data from Egress to flow back into KnowBe4 to enable fully automated threat-based training and simulation campaigns. This capability builds upon the launch of Egress's adaptive cloud email security solution, which utilises KnowBe4's User Risk Score as a crucial data point in its holistic human risk modelling.
A two-way API, also known as a bi-directional API, is a software tool that allows two different systems to exchange data seamlessly in both directions. This means that data can be sent and received by both systems, enabling real-time communication and data synchronisation.
Bi-directional APIs offer several advantages in software development, including improved efficiency, enhanced collaboration, and better data accuracy. They are commonly used in chat applications, real-time editing tools, and stock trading platforms.
Collaboration and education in today's AI-driven world
The enhanced partnership between Egress and KnowBe4 marks a significant milestone in the fight against human error, a leading cause of data breaches and ransomware attacks. With this integration, joint Egress and KnowBe4 customers can fully harness the combined power of both platforms, reaping the benefits of both adaptive email defences and automated security awareness training.
CEO of Egress, Tony Pepper, explains: "Today marks the beginning of a new and exciting era that focuses on delivering adaptive human protection across the enterprise. This is only possible through the seamless integration of applications within the cybersecurity ecosystem. By publishing events from Egress directly to KnowBe4 KMSAT's User Timeline, we offer insight into the types of attacks people receive, along with how they engage with these threats to surface potential signs of compromise.
"This actionable intelligence is used to automatically tailor individual's SAT programs to reflect the real threats and incidents they face, offering teachable moments that truly resonate."
The benefits of the partnership
Egress's live email threat intelligence feeds directly into KnowBe4, enabling it to identify and respond to threats in real time, ensuring that employees are promptly trained and tested on the latest phishing tactics. This is a major step forward in both the AI and cybersecurity landscape as it will minimise the risk of human error.
KnowBe4's automated training and phishing simulations are tailored to each employee's individual risk profile and the specific threats they face, which means that training is relevant and effective.
Stu Sjouwerman, CEO at KnowBe4, says: "Security awareness training is most effective when it is engaging and highly relevant to the audience. The threats people face vary from day to day, and sometimes from hour to hour. It's critical that we're able to deliver quality training and realistic phishing simulations that prepare users for real attacks – which can be achieved using live threat intelligence. Our partnership with Egress enables our customers to deliver individualised security coaching that drives behavioural change and reduces overall risk."
******
For more insights into the world of AI - check out the latest edition of AI Magazine and be sure to follow us on LinkedIn & Twitter.
Other magazines that may be of interest - Technology Magazine | Cyber Magazine.
Please also check out our upcoming event - Net Zero LIVE on 6 and 7 March 2024.
******
BizClik is a global provider of B2B digital media platforms that cover Executive Communities for CEOs, CFOs, CMOs, Sustainability leaders, Procurement & Supply Chain leaders, Technology & AI leaders, Cyber leaders, FinTech & InsurTech leaders as well as covering industries such as Manufacturing, Mining, Energy, EV, Construction, Healthcare and Food.
BizClik – based in London, Dubai, and New York – offers services such as content creation, advertising & sponsorship solutions, webinars & events.