Nvidia announces new GPUs which harness the power of AI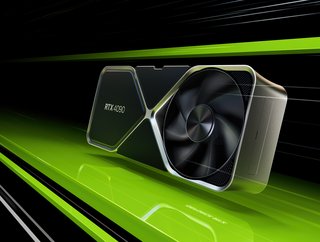 Nvidia's latest 'Ada Lovelace' architecture GPUs harness the power of AI, providing more power for gamers and paving the way for metaverse creators
Nvidia has announced its latest series of GPUs that harness the power of artificial intelligence (AI) providing benefits to professionals, designers and gamers.
In a live-streamed address this week, the company announced its RTX 6000 and new 40-series GPUs, both of which are based on its new NVIDIA Ada Lovelace architecture.
Nvidia's 40 Series cards deliver 'massive generational leaps in performance and efficiency', the company says, and represents a new era of real-time ray tracing and neural rendering, which uses AI to generate pixels.
Nvidia has gained attention in recent years with its booming data centre business, which sells chips used in artificial intelligence work such as natural language processing. But, as Reuters says, the company's roots are in graphics chips, which still provided 59% of its $26.9 billion in revenue in its most recent fiscal year.
AI helping take graphics to the next level
"The age of RTX ray tracing and neural rendering is in full steam, and our new Ada Lovelace architecture takes it to the next level," said Jensen Huang, NVIDIA's founder and CEO.
"Ada provides a quantum leap for gamers and paves the way for creators of fully simulated worlds. With up to 4x the performance of the previous generation, Ada is setting a new standard for the industry," he said.
Huang also announced NVIDIA DLSS 3 — the next revolution in the company's Deep Learning Super Sampling neural-graphics technology for games and creative apps. Nvidia says the AI-powered technology can generate entire frames for massively faster game play, and can overcome CPU performance limitations in games by allowing the GPU to generate entire frames independently.
Meanwhile the RTX 6000 incorporates the latest generations of render, AI and shader technologies and 48GB of GPU memory, enabling users to create incredibly detailed content, develop complex simulations and form the building blocks required to construct compelling and engaging virtual worlds.
"Neural graphics is driving the next wave of innovation in computer graphics and will change the way content is created and experienced," said Bob Pette, vice president of professional visualisation at NVIDIA.
"The NVIDIA RTX 6000 is ready to power this new era for engineers, designers and scientists to meet the need for demanding content-creation, rendering, AI and simulation workloads that are required to build worlds in the metaverse."
"NVIDIA's professional GPUs helped us deliver an experience like none other to baseball fans everywhere by bringing legends of the game back to life with AI-powered facial animation," said Michael Davies, senior vice president of field operations at Fox Sports. "We're excited to take advantage of the incredible graphics and AI performance provided by the RTX 6000, which will help us showcase the next chapter of live sports broadcast."
"The new NVIDIA Ada Lovelace architecture will enable designers and engineers to continue pushing the boundaries of engineering simulations," said Dipankar Choudhury, Ansys Fellow and HPC Centre of Excellence lead. "The RTX 6000 GPU's larger L2 cache, significant increase in number and performance of next-gen cores and increased memory bandwidth will result in impressive performance gains for the broad Ansys application portfolio."