National Robotarium to help outline future AI technologies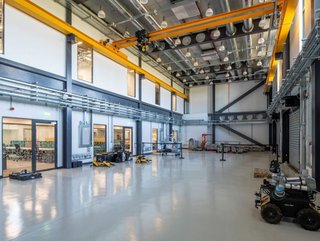 Pic: The National Robotarium
A partnership between the UK's National Robotarium and Tata Consultancy Services is to bring together both organisations' robotics and AI expertise
The UK's National Robotarium has opened along with the announcement of a major applied engineering and research collaboration with Tata Consultancy Services (TCS).
The £22.4 million centre for robotics and artificial intelligence is the largest of its kind in the UK. The facility will collaborate with TCS on applied engineering and joint research across multiple disciplines including soft robotics, field robotics, co-bot and tele-operations - while also covering areas of urgent societal need including social and geriatric care.
Utilising expertise from both Heriot-Watt University and the University of Edinburgh, TCS Research will collaborate with the National Robotarium to create solutions to global challenges using robotics and AI research, product design and new technology creation.
Partnership to bring together robotics and AI experience and expertise
The agreement with the National Robotarium will build on and support a wider partnership between Heriot-Watt University and TCS which will additionally include education, information technology and innovation developments.
Based at Heriot-Watt University's Edinburgh campus, the purpose-built National Robotarium facility provides a catalyst for entrepreneurship, bringing together academics and companies ranging in size from global businesses to innovative startups.
The National Robotarium is part of the Data-Driven Innovation initiative, supported by £21 million from the UK Government and £1.4 million from the Scottish Government.
"This exciting collaboration is a fitting milestone to announce during the official opening ceremony of the National Robotarium," said Stewart Miller, CEO of the National Robotarium.
"The partnership will enable TCS and the National Robotarium to bring together our vast combined experience and expertise, elevating the robotics and artificial intelligence offering of both organisations as a result.
"Together we will deliver applied solutions across a range of challenges informed by TCS' clients, utilising the unique facilities of our new building and adopting an enhanced approach which aims to de-risk and speed up adoption in the market. We will shortly announce a joint programme of focused research, which will outline some of the future technologies required in the field of robotics and AI.
"This announcement is the first of many for the National Robotarium as we ramp up our global collaborative activities. Britain has a long and rich heritage of delivering cutting-edge innovation on the world stage. The opening of this dedicated, state-of-the-art facility is another important milestone in that story and one which I believe demonstrates Scotland and the UK's role at the forefront of global developments in AI and robotics."
Ananth Krishnan, Chief Technology Officer of Tata Consultancy Services (TCS), commented: "TCS is delighted to announce this crucial strategic partnership with The National Robotarium.
"As part of this agreement, we will leverage the TCS Pace philosophy and ecosystem to accelerate industrial collaboration and increase the adoption of AI and robotics solutions that can help resolve some of the most important social issues facing the world today.
"We are truly excited to start working with The National Robotarium and achieving our shared goal of empowering people's lives with innovative technology."