Breakthrough allows autonomous driving in multiple vehicles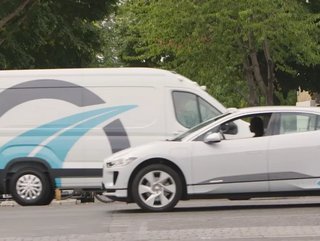 London-based startup Wayve has unveiled an AI system which can autonomously drive two different vehicles in what it describes as an industry first.
A tech startup has announced that it has developed an AI model which can autonomously drive two different types of vehicle, in a move which could automated vehicles (AVs) to be incorporated into the transport system at scale.
British startup Wayve has unveiled a technology milestone - revealing its AV system can use the same AI model to autonomously drive two very different vehicles: a passenger car and a van.
Wayve says it is leveraging AI to build an onboard driving intelligence with a 'lean, camera-first sensing stack that can be easily applied to different types of vehicles and can drive in new, previously unseen cities'.
AI model has ability to drive in any city with no re-engineering
This development is unique to Wayve, and shows that their AI model has the ability to autonomously drive any electric vehicle in any city, with no re-engineering. This advancement shows that Wayve's unique approach can help scale AV technology faster to new markets and provide a vehicle-agnostic system to support the different vehicles that fleet customers want to use.
Alex Kendall, CEO of Wayve, said: "To build AV technology that can be applied to any vehicle, we need an intelligent solution that's capable of learning different driving behaviours and applying them to new scenarios. In machine learning, this is called generalisation. It's a core feature of AV2.0 and we've now demonstrated that our AI system can adapt to different vehicles, as well as new cities. This is an industry first achievement that shows we're developing vehicle-agnostic AV technology that can support the different use cases for this technology.
"We're excited to continue developing our technology and begin commercial trials in the UK this year," adds Kendall. "To realise the full potential of self-driving technology and see the UK lead in this global tech sector, it is essential that legislation is put in place to keep pace with our technology."
AV innovation has the potential to generate new employment opportunities all over the UK. Current predictions estimate that the AV industry will bring almost 40,000 jobs to the UK, alongside generating £42 billion for the UK economy.
Earlier this year Wayve announced it had partnered with Microsoft to leverage the supercomputing infrastructure needed to support the development of AI-based models for autonomous vehicles (AVs) on a global scale, extends their existing collaboration, which commenced in 2020, when Wayve chose Microsoft Azure to help accelerate the development of its technology.
Working together the two companies said they would use Wayve's expertise using deep neural networks and vast quantities of data to train AI models with Microsoft's engineering in powering large-scale AI systems.