AiFi's contactless autonomous retail stores raise $15mn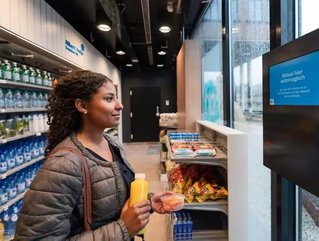 AiFi is a San Francisco-based startup developing autonomous stores that bypass the need for human workers...
AiFi is a San Francisco-based startup developing autonomous stores that bypass the need for human workers.
Such an approach is obviously very desirable in the age of COVID-19, with social distancing measures forcing retailers to cut capacity, among other restrictions.
The company's solution involves building new and retrofitting old stores to have a so-called "checkout-free" experience with its . Using computer vision and other sensors, customers are tracked and the products they take off the shelves automatically identified. Payment is solved by customers accessing the store by scanning a card or using the company's app.
Benefits of the approach, the company says, include increased productivity and profitability, as well as a novel shopping experience for customers.
Founded in 2016, AiFi's latest $15mn takes lifetime funding to $30mn. The round by Qualcomm Ventures, alongside Plum Alley, Cervin Ventures and TransLink Capital.
In , Carlos Kokron, VP Qualcomm Technologies, Inc. and Managing Director, Americas at Qualcomm Ventures, said: "As intelligence continues to move from the cloud to the wireless edge and demand for contactless shopping grows, we are excited to be investing in AiFi. We were very impressed with AiFi's innovative edge-computing solutions and look forward to their technology helping accelerate the deployment of 5G."
The company said the funds would be used for continued development of its technology, as well as expansion to more locations. AiFi currently has 330 stores intended to open in 2021, and partners with top grocery chains in the US, Europe and Australia.
"We are incredibly excited for Qualcomm Ventures' investment to accelerate the deployment of AiFi-powered autonomous stores. We will be focusing on building out our OASIS platform so implementations will be even faster," said Steve Gu, Co-founder, and CEO, AiFi. "With this new funding, AiFi will continue to develop its technology so stores around the world will get smarter and more efficient, making in-store shopping easier, more profitable and safer than ever before."
(Image: AiFi)