Top 10 companies using AI to power ecommerce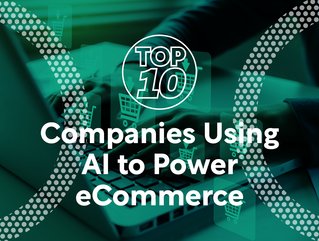 AI Magazine's Top 10 Companies using AI to power eCommerce
AI is a powerful tool in the world of ecommerce - driving better shopping recommendations for customers and enabling higher levels of automation
With an estimated 2.14 billion people worldwide buying goods and services online, AI is a powerful tool in the world of ecommerce - driving better shopping recommendations for customers and enabling higher levels of automation and therefore efficiency.
Some of the benefits of utilising AI in ecommerce are:
Personalised Shopping Experiences: AI algorithms analyse customer data to provide personalised product recommendations. This increases the likelihood of conversion as customers are shown items that align with their preferences and purchase history.
Improved Search and Navigation: AI-powered search engines and chatbots make it easier for customers to find products quickly. Natural language processing (NLP) enables better understanding of customer queries, enhancing the search experience.
Enhanced Customer Support: AI chatbots and virtual assistants can handle routine customer queries and provide 24/7 support, reducing response times and improving customer satisfaction.
This week, AI Magazine looks at 10 of the top companies using AI to transform ecommerce.
10: DataRobot
With the belief that AI will enhance every aspect of business transactions and human interactions to improve how we live, work, play and stay safe, DataRobot is the leader in Value-Driven AI–a unique and collaborative approach to Artificial Intelligence.
The DataRobot AI Platform offers the unmatched Experimentation and Production capabilities required to predict accurate customer trends and demand forecasting insights that maximise profitability and sustainability.
Its platform helps businesses increase profits, overcome entrenched retail challenges, and decrease operational inefficiencies leading to better insights and stronger customer relationships.
9: Salesforce
Salesforce's Einstein platform, the company says, marks the next big milestone in the CRM leader's AI journey.
Its Einstein for Commerce platform enables businesses to grow faster with intelligent product recommendations, tailored product sorting, and meaningful search results.
Providing AI-powered merchandising tools to enhance shopper experiences, Salesforce offers a number of powerful Einstein capabilities including Einstein Product Recommendations, Einstein Predictive Sort and Einstein Commerce Insights.
8: IBM
IBM offers a range of AI-powered services to boost customer satisfaction. Its watsonx retail chatbots enable customers to self-serve a wide range of queries, support accurate routing to human agents, and deliver highly personalised, contextually relevant shopping experiences.
Meanwhile, IBM's iX digital commerce and ecommerce consulting business helps organisations transform the omnichannel commerce experience with AI and automation, making commerce truly intelligent.
7: Meta
Offering a range of shopping experiences across Marketplace and Shops on Facebook and Instagram, Meta leverages AI tools to help categorise and label products and drive better customer experiences.
Its CommerceMM tool can comprehend multimodal data to make products more discoverable and help shoppers find what they're looking for.
Meanwhile, Meta is using AI to improve the performance of ads for businesses, with its AI Sandbox tool testing generative AI capabilities for advertisers. Its Advantage+ platform uses AI to help businesses eliminate the manual steps of ad creation and automate up to 150 creative combinations at once.
6: Google Cloud
Google Cloud offers a range of AI technologies to help retailers transform their in-store shelf-checking processes and enhance their ecommerce sites with more fluid and natural online shopping experiences for customers.
Its AI-powered browse feature in its Discovery AI solutions for retailers uses machine learning to select the optimal ordering of products on a retailer's ecommerce site.
The company also offers AI-driven personalisation capabilities that customise the results a customer gets when they search and browse a retailer's website, driving better recommendations and better experiences for customers.
5: Alibaba Group

Since launching its first website helping small and medium-sized enterprises in China to sell internationally, Alibaba Group has grown into a digital ecosystem with businesses comprising China commerce, international commerce, local consumer services, Cainiao, cloud, digital media and entertainment, innovation initiatives and others.
Earlier this year Alibaba Cloud, the cloud computing unit of Alibaba Group, announced its version of a ChatGPT-style product called Tongyi Qianwen, which Chairman and CEO Daniel Zhang said will be integrated across all products offered by Alibaba.
4: Shopify

Shopify is a Canadian multinational ecommerce company headquartered in Ottawa, Ontario, which enables users to create and host ecommerce stores, add multiple payment options, translate stores, handle shipping, and market their business, amongst other functions.
Shopify Magic is a suite of free AI-enabled features that are integrated across Shopify's products and workflows to make it easier for users to start, run, and grow their businesses. As part of Magic, Shopify offers a generative AI tool which is capable of generating suggestions for content such as product descriptions, email subject lines, and headings in online stores.
3: Walmart

Operating approximately 10,500 stores and clubs in 19 countries and eCommerce websites, retail giant Walmart is using AI in a number of ways to improve experiences for customers and its 2.1m employees globally.
With innovations like Curbside Pickup, Mobile Scan & Go and a whole host of apps, Walmart provides customers with more ways to save time and money while reimagining how digital and physical shopping work together.
The company has been developing conversational AI capabilities for the past several years. Walmart Voice Order enables customers to pair their Walmart accounts to their smart speakers and mobile devices, using NLP to understand the request, product name entity recognition to identify the products, and their prior purchase information to determine brand preferences.
2: eBay

AI is woven into all aspects of eBay's platform, inspiring economic empowerment and enhanced experiences.
As Devin Wenig, eBay President and CEO wrote in 2016, "I believe that commerce, in particular, will be the focus of some of the most immediate and exciting applications of AI."
The company uses over two decades of data and customer insights to train its algorithms and make its AI smarter. Every time a user interacts with the marketplace, the AI learns and provides feedback so eBay can create a better experience.
AI has become the key to understanding buyer behaviour and removing friction to ensure eBay is serving up the best experiences for customers, with tools including visual search and the use of NLP to better understand user searches.
1: Amazon

AI has played a major role in making Amazon the biggest ecommerce player in the world, using the technology to deliver solutions from personalised product recommendations to its Alexa voice assistant.
With a range of solutions including robots in its fulfilment centres to last-mile robot deliveries, AI is firmly integrated into Amazon's business.
It uses AI to help employees flag defective products before they ship, with Amazon saying its AI system is three times more effective than manually identifying damaged products at its fulfilment centres.
The company recently announced it would be introducing a generative AI-powered tool to summarise product reviews, highlighting the product features and customer sentiment to help customers determine at a glance whether a product is right for them.
******
For more insights into the world of Technology - check out the latest edition of Technology Magazine and be sure to follow us on LinkedIn & Twitter.
Other magazines that may be of interest - AI Magazine | Cyber Magazine.
Please also check out our upcoming event - Cloud and 5G LIVE on October 11 and 12 2023.
******
BizClik is a global provider of B2B digital media platforms that cover Executive Communities for CEOs, CFOs, CMOs, Sustainability leaders, Procurement & Supply Chain leaders, Technology & AI leaders, Cyber leaders, FinTech & InsurTech leaders as well as covering industries such as Manufacturing, Mining, Energy, EV, Construction, Healthcare and Food.
BizClik – based in London, Dubai, and New York – offers services such as content creation, advertising & sponsorship solutions, webinars & events.