Top 10 Companies Using AI in the Metaverse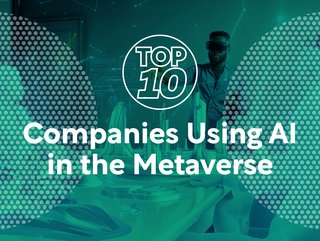 AI Magazine considers some leading companies who are committed to using AI tools within the metaverse and will continue to do so moving forward
With the metaverse becoming established in the digital world, AI Magazine considers companies who are using AI in the metaverse, with positive use cases
AI in connection with virtual reality can help to provide more immersive interactions within the metaverse.
It is anticipated that the adoption of this type of technology, like visual and augmented reality (VR/AR) adoption, will be used more frequently in a wide range of industries, including shopping, events and social media. It is easy to see how AI systems could work to create a more immersive virtual world for users worldwide.
With this in mind, AI Magazine considers some leading companies who are committed to using AI tools within the metaverse and will continue to do so moving forward.
Magic Leap is an American technology company that released a head-mounted augmented reality display, called Magic Leap One, which superimposes 3D computer-generated imagery over real world objects.
It provides a powerful augmented reality platform for enterprises and its technology enables global teams to collaborate remotely with co-presence, conduct better reviews aided by 3D visualisation, and offer real-time remote expertise to frontline workers.
In May 2023, it was reported that the company was in talks with Meta to create an agreement to explore ways in which Magic Leap could provide both intellectual property licensing and contract manufacturing in North America to help build mainstream AR products.
Binance is a cryptocurrency exchange that lists more than 350 cryptocurrencies globally. In addition to crypto trading, the company offers several services that enhance the experience for users and blockchain developers.
As far as Binance is concerned, the metaverse is a shared virtual space that uses virtual reality and blockchain technology to merge digital and physical environments. It enables real-time interaction with digital objects and other users. The company also provides an online list of the current top crypto tokens related to the metaverse.
Founded in 1991, Epic Games is an American company that holds more than 40 offices worldwide. Today, it is a leading interactive entertainment company and provider of 3D technology and is well known for operating one of the world's largest games, Fortnite, which has over 350 million accounts and 2.5 billion friend connections.
Epic Games has become one of the leading companies behind the evolution of the metaverse, including holding numerous virtual events within Fortnite. In 2022, the company raised US$2bn to fund other metaverse initiatives, including Unreal Engine to create immersive experiences in simulated environments like games.
A subsidiary of Google, Google DeepMind has always been committed to AI research. It holds a crucial role as the metaverse expands, particularly concerning ethical practice.
In August 2023, Google DeepMind released SynthID: a tool designed to watermark AI-generated images imperceptible to humans, but discernible by an AI detection program. The tool aims to embed a watermark within the image without altering its quality and has been initially launched for Google Cloud customers using Vertex AI, aiming to combat issues like deepfakes and enhance the trustworthiness of AI-generated content.
Tencent is a world-leading internet and technology company that develops innovative products and services. Founded in 1998 in China, the company's guiding principle is to use technology for good, publishing some of the world's most popular video games and other high-quality digital content.
In July 2023, it was reported that Tencent had entered a Memorandum of Understanding (MoU) with Morpheus Labs to cooperate on efforts to drive Web3 gaming and metaverse innovation and promote the development of the Web3 ecosystem. It aims to allow Web3 builders to create innovative gaming experiences for players.
A full-stack computing company, NVIDIA continues to have a wide range of products and services within the technology sector. The company remains one of the world's leading graphics processing unit (GPU) developers and AI computing leaders.
The company remains one of the metaverse's largest investors as it continues to pioneer developments in GPUs for consoles, laptops and PCs with a wide range of use cases. In particular, the company has an Omniverse platform for creating and operating metaverse applications, enabling individuals and teams to develop Universal Scene Description (OpenUSD)-based 3D workflows and applications.
AWS views the industrial metaverse as transforming understandings over people's relationship to the digital world. It offers a range of industrial metaverse solutions that users can incorporate augmented reality and virtual reality into digital twin experiences to provide a more realistic and immersive representation of a physical entity.
According to AWS, these solutions can help improve decision-making, collaboration and remote monitoring and maintenance. Its purpose-built cloud products include AWS IoT TwinMaker to optimise operations with digital twins, as well as AWS SimSpace Weaver that enables the building of large-scale spatial simulations.
Google has already ventured into the virtual reality race, having created several VR and AR products such as Google Glass, Google Cardboard and the Daydream VR headset. Google has also developed ARCore, a platform for creating augmented reality applications on Android devices. The company is continually focused on developing and enhancing immersive technologies that allow users to experience new and customisable virtual environments.
It has been suggested that Google metaverse Project Starline may play a key role in further connecting people online. Individuals should be able to come together and join this metaverse to interact and collaborate on projects and share ideas.
Microsoft is one of the forefront companies developing the metaverse, especially when it comes to collaboration. The company has also partnered with Meta to deliver future immersive experiences for the future of both work and play.
In particular, Microsoft Mesh for Teams is the company's metaverse platform that allows shared experiences from anywhere and on any device through mixed reality applications. The platform aims to bridge communication methods, with the technology allowing everyone in a meeting to be present through creating avatars and immersive spaces that can be accessed from any device.
Facebook is a platform where people can interact with each other, build communities and socialise while sitting at home, but in 2021 Meta rebranded in 2021 to shift its focus more to the metaverse. It offers information and services on VR, AR and smart glasses, with creative ideas and practical applications being developed every day by all people.
The company also shares frequent updates and stories on how the metaverse is impacting individuals and industries worldwide. Meta believes that the metaverse will work to transform education and industries ranging from healthcare, mechanics and engineering, to name a few.
******
For more insights into the world of AI - check out the latest edition of AI Magazine and be sure to follow us on LinkedIn & Twitter.
Other magazines that may be of interest - Technology Magazine | Cyber Magazine.
Please also check out our upcoming event - Cloud and 5G LIVE on October 11 and 12 2023.
******
BizClik is a global provider of B2B digital media platforms that cover Executive Communities for CEOs, CFOs, CMOs, Sustainability leaders, Procurement & Supply Chain leaders, Technology & AI leaders, Cyber leaders, FinTech & InsurTech leaders as well as covering industries such as Manufacturing, Mining, Energy, EV, Construction, Healthcare and Food.
BizClik – based in London, Dubai, and New York – offers services such as content creation, advertising & sponsorship solutions, webinars & events.