Amazon deploys 750,000+ robots to unlock AI opportunities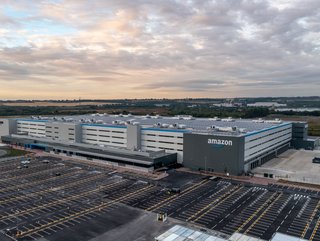 Amazon has already started testing human-like robot solutions at its robotics research and development site
With Amazon debuting human-like robotics in its supply chain operations, it suggests that AI could in future work in collaboration with human workforces
Amazon has said that it has started testing human-like robot solutions at its robotics research and development site with the goal of performing repetitive tasks.
In particular, the company has started testing Digit, a two-legged ​robot that can grasp and lift items, which is being developed as a result of its partnership with Agility Robotics. Amazon has noted that the device will first be used to shift empty tote boxes, a 'highly repetitive' process.
In addition to being capable of stocking merchandise 75% more quickly and helping to deliver orders 25% faster, the robots are designed to work collaboratively with employees.
The power of supply chain robotics
With more than 750,000 robots already deployed, Amazon has already started testing human-like robot solutions at its robotics research and development site to perform repetitive tasks and work collaboratively with employees.
"Digit can move, grasp, and handle items in spaces and corners of warehouses in novel ways," Amazon said. "Its size and shape are well suited for buildings that are designed for humans.
"We believe there is a big opportunity to scale a mobile manipulator solution, such as Digit, which can work collaboratively with employees."
This announcement also comes in the midst of Amazon unveiling a number of AI solutions throughout the company to make operations both more efficient and safe. In particular, AWS has implemented a new AI-based technology that is designed to detect anomalies in its delivery vans, hoping to improve its fleet services worldwide via early issue detection.
It is clear that Amazon is keen to continue developing and harnessing AI to its full potential in order to create digital solutions that benefit both the customer and its business operations.
AI helping to create jobs, rather than replace them
Amazon says the deployment of robots has created 700 categories of new skilled job types that previously didn't exist within the company.
"By equipping our employees with new technology and training them to develop new skills, we're creating career paths and new and exciting ways for people to contribute here at Amazon," it says.
These types of AI and automation developments have been revolutionary for businesses around the world. However, there has understandably been some speculation over if AI and robots will one day replace human jobs.
Companies like Amazon working to ensure collaboration between AI and human workforces is certainly progress to suggest that companies could work to bolster their workforces instead of reducing them moving forward.
Martin Harbech, Group Director of Meta, stated on LinkedIn that the latest development of these Amazon robots is proof that, whether we like it or not, "the fourth industrial revolution is here."
He says: "There is no longer any doubt that AI, computer vision and robotics will replace many tasks over the coming decade."
Harbech goes on to add that Industry 4.0 technology will "unlock many new opportunities, make many industries much safer, and create many new high-skilled jobs that don't exist today."
However, he also warns that this rapid development in technology also means it is "critically important" that organisations "do not underestimate the massive reskilling and up-skilling challenge on the horizon."
******
For more insights into the world of AI - check out the latest edition of AI Magazine and be sure to follow us on LinkedIn & Twitter.
Other magazines that may be of interest - Technology Magazine | Cyber Magazine.
Please also check out our upcoming event - Net Zero LIVE on 6 and 7 March 2024.
******
BizClik is a global provider of B2B digital media platforms that cover Executive Communities for CEOs, CFOs, CMOs, Sustainability leaders, Procurement & Supply Chain leaders, Technology & AI leaders, Cyber leaders, FinTech & InsurTech leaders as well as covering industries such as Manufacturing, Mining, Energy, EV, Construction, Healthcare and Food.
BizClik – based in London, Dubai, and New York – offers services such as content creation, advertising & sponsorship solutions, webinars & events.