Top 10 leading AI companies in North America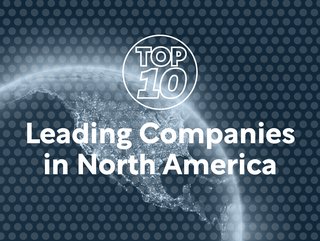 AI Magazine charts some of the leading companies that are ahead of the curve when it comes to AI development
In an ever-evolving and competitive field, AI Magazine considers some of the leading companies who strive to pioneer and develop greater AI tools
2023 has shown that AI has the potential to greatly transform multiple key business industries and make processes safer and more efficient. When developed and harnessed responsibly, it has the potential to positively transform people's lives and global workforces.
Global technology companies are consistently working to improve AI knowledge and systems within their businesses. As more companies continue to invest in AI, upskilling has become very common within the tech sector in particular.
With this in mind, AI Magazine charts some of the leading companies that are ahead of the curve when it comes to AI development.
C3 AI works to deliver a comprehensive enterprise AI application development platform and already boasts a large number of turnkey enterprise AI applications. These aim to meet the needs of global enterprises in manufacturing, financial services, government, utilities, oil and gas, along with many other key industries.
The C3 AI Platform works to unlock business value through data unification, seamless prototyping and production deployments, ultimately powering 1.8 billion predictions per day.​​​ It allows data scientists to review and deploy millions of models into production to maximise business value.
DataRobot offers a full lifecycle AI platform for generative and predictive AI. Its inter-operable ecosystem and AI experts help a wide range of businesses envision what is possible with AI and ultimately work to achieve it.
Earlier in 2023, the company unveiled its Platform 9.0 which includes Workbench - a tool that simplifies collaboration by enabling resource sharing in a single click. The company's capabilities simplify management, governance and compliance across all business AI models, whether they are hosted within DataRobot or on other platforms.
Key facts
500+ customers worldwide

95% customer retention rate (Forbes Global 2000)

1,000+ employees worldwide
Dataiku offers AI solutions for a huge range of business sectors, including banking, pharmaceuticals, manufacturing and telecommunications. The company provides development tools, pre-built use cases and AI-powered assistants to help its customers unpack more use cases with generative AI.
In June 2023, the company announced Dataiku 12, the latest version of its platform for what it refers to as "Everyday AI." It is used to develop accessible AI applications and works to enable users at different technical levels to prepare data to train AI projects without code.
Nvidia remains one of the fastest growing technology companies and has recently expanded further into AI. The company has seen very rapid sales growth, with 40,000 large companies and 15,000 start-up businesses now using NVIDIA technologies.
In 2023, it announced a partnership with ServiceNow to develop powerful, enterprise-grade generative AI capabilities that work to transform business processes with faster and more intelligent workflow automation. The company continues to explore a wide range of AI use cases to better assist businesses and improve productivity.
Google DeepMind continues to tackle the biggest challenges facing humanity by working towards delivering AI research and products that improve human lives. It prides itself on developing and harnessing responsible and ethical AI systems to advance science.
The company has also achieved scientific breakthroughs with AI, including AlphaFold which can predict protein structures. Company scientists have effectively changed the way that this type of science operates, as researchers can analyse data in a much shorter space of time and hopefully tackle diseases faster.
IBM puts AI into action by focusing on the areas of business where AI can deliver real benefits both quickly and ethically. It boasts a rich portfolio of business-grade AI products and analytics solutions designed to reduce the hurdles of AI adoption and optimise outcomes and responsible use.
Its arguably most well-known AI tool, IBM Watson, is a data analytics processor that uses natural language processing (NLP) and analyses data to answer human-posed questions in a fraction of a second. It aims to support organisations in leveraging AI, regardless of where they are in their journey, to gain a competitive advantage.
It is no secret that OpenAI is one of the fastest growing companies worldwide over the past year, with ChatGPT taking the world by storm. As a result of ChatGPT, the popular chatbot service that provides fast answers to human questions, surveys have shown that executives have subsequently invested in AI or are exploring generative AI as a result.

The company continues to release new generative developments, including the very recent web crawler GPTBot to browse the internet and collect information.
AWS AI Services provide ready-made intelligence for business applications and workflows. They aim to easily integrate with existing company applications to address use cases like improving safety and security systems and increasing customer engagement. The company's AI services also do not require machine learning experience to use.

In 2023, the company announced a string of new AI services, including AWS HealthScribe - a service that aims to empower healthcare software providers to build clinical applications that use speech recognition and generative AI to save clinicians time by generating clinical documentation.
Google AI is a division of Google dedicated to AI development, with the belief that it can work to improve people's lives if used responsibly. Its approach to AI development is grounded in making it universally accessible and useful because, according to the company, it is critical.
It has a range of AI and machine learning (AI/ML) products, ranging from generative AI, to data science, to responsible AI systems. This includes Vertex AI which is a unified machine learning platform that works to help businesses build, deploy and scale AI models faster and at a reduced cost.
An investor into OpenAI, Microsoft is certainly currently one of the key companies leading the charge with global AI development. From its first and very memorable paper clip Office Assistant, Clippy, the company is now harnessing the power of Bing AI to greatly help users.
Users of Microsoft AI can expect the use of natural language prompts for security insights and fast AI responses based on data. The company also announced that it is soon bringing Bing Chat to mobile browsers soon, rather than just its Edge browser, along with new features and AI capabilities.
******
For more insights into the world of Technology - check out the latest edition of AI Magazine and be sure to follow us on LinkedIn & Twitter.
Other magazines that may be of interest - Technology Magazine | Cyber Magazine
Please also check out our upcoming event - Sustainability LIVE in London on September 6-7 2023.
******
BizClik is a global provider of B2B digital media platforms that cover Executive Communities for CEOs, CFOs, CMOs, Sustainability Leaders, Procurement & Supply Chain Leaders, Technology & AI Leaders, Cyber Leaders, FinTech & InsurTech Leaders as well as covering industries such as Manufacturing, Mining, Energy, EV, Construction, Healthcare + Food & Drink.
BizClik – based in London, Dubai, and New York – offers services such as Content Creation, Advertising & Sponsorship Solutions, Webinars & Events.