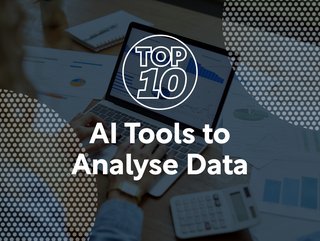 AI Magazine considers leading tools in AI that work to analyse data that present huge benefits to global business operations
AI Magazine considers some of the top AI tools to analyse data and the crucial role they play in enhancing workplace efficiencies and data accuracies
Tools that analyse data are starting to use AI systems and algorithms in order to enhance services and thereby improve business productivity. AI also enables organisations to gain meaningful insights from data, as well as completing repetitive tasks faster than a human employee could, ultimately saving time and resources.
This type of data analysis is essential as it helps businesses understand their customers better, improves sales, improves customer targeting, reduces costs and allows for the creation of better problem-solving strategies.
With this in mind, AI Magazine considers leading tools in AI that work to analyse data that present huge benefits to global business operations.
Business Objects was an enterprise software company, specialising in business intelligence, before being acquired by SAP. SAP BusinessObjects Business Intelligence is a centralised suite for data reporting, visualisation and sharing. These systems use multidimensional data analysis capabilities to filter and manipulate data, as well as identifying trends and outliers.
The platform aims to transform data into useful insights that are available anytime, anywhere. By providing a flexible architecture, SAP BusinessObject analytics platform can support business growth. It can help users to build impactful visualisations, dashboards and applications to assess risk, improve efficiencies and identify opportunities.
Akkio is an easy-to-use, scalable and affordable AI platform for real-time decision making. It works to equip business users and analysts with data transformation and visualisation tools that translate into a predictive modelling solution, empowering users to generate actionable insights, tools and solutions.
Models are generated for users through auto machine learning systems which are designed to offer user-friendly interfaces, intuitive workflows and require minimal coding or technical expertise. They provide pre-built models and algorithms that can be easily applied to common business use cases, allowing users to extract insights without specialist data science knowledge.
Qlik offers data analysis tools that turn data into AI-driven insights and action. It offers integrated AI and machine learning (AI/ML) tools to auto-generate insights and predictions. It is a cloud platform that turns data into automated, AI-driven actions all in one platform.
The company's Active Intelligence Platform is one of the only tools on the market that allows for open-ended, curiosity-driven exploration that gives everyone at any skill level the ability to make real discoveries that lead to real outcomes and transformative changes.
RapidMiner is a data science platform that analyses the collective impact of an organisation's data. It was acquired by Altair Engineering in September 2022. With over one million users worldwide, it operates an enterprise-ready data science platform that amplifies the collective impact of a business' people, expertise and data.
Reinventing enterprise in this way, the platform provides data mining and machine learning procedures including: data loading and transformation (ETL), data preprocessing and visualisation, predictive analytics and statistical modelling, evaluation and deployment.
Sisense helps businesses build intelligent analytics into their products by converting data into revenue by embedding AI-powered analytics with pro-code, low-code and no-code capabilities. It is an AI-driven analytics cloud platform that provides intelligence for more than 2,000 global companies to innovate and drive meaningful change worldwide.
It helps to create intuitive data products that get insights into the hands of end users driving engagement and increasing solution value. Sisense Fusion in particular offers the AI and analytics foundation to create product differentiation and sustain data-hungry user growth.
Key facts
8,300+ customers

400,000+ community members

400+ partners serving 90 countries
With an easy-to-use platform, Alteryx aims to help companies bridge the analytics divide by putting AI/ML capabilities in the hands of knowledge workers. Through easy-to-design workflows, knowledge workers can get from data sources to useful insights without needing to write code and have an understanding of computer science.
By upskilling users in this way, businesses do not have to wait on data science teams to create entire models and can build and explore their own models. With Alteryx, users can quickly create ML Pipelines directly and utilise the Alteryx Open-Source Library which offers a wide range of tools.
KNIME is an open source platform built to productionise data science by a team with a strong scientific background. Today it has a strong community of more than 300,000 users across all industries and in over 60 countries.
The KNIME Analytics Platform which has an intuitive low-code, no code interface that allows anyone from spreadsheet users to seasoned data scientists to analyse their data. In addition, KNIME Business Hub allows for large scale collaboration and dissemination of insights across an enterprise.
Introduced in May 2023, Microsoft Fabric aims to offer data analytics for the era of AI. It operates as an end-to-end, unified analytics platform that brings together all of the data and analytics tools that organisations need.
Fabric works to integrate technologies like Azure Data Factory, Azure Synapse Analytics and Power BI into a single unified product. The goal is to empower data and business professionals alike to unlock the potential of their data and lay the foundation for the era of AI.
Intel's advanced analytics solutions offer simple integration for new capabilities to build fast and efficient data pipelines. In addition, it also aims to integrate the newest hardware capabilities and optimisations into existing infrastructure.
The company offers a range of different AI data solutions such as Intel AI Analytics Toolkit that works to achieve end-to-end performance for AI workloads powered by oneAPI. The toolkit accelerates machine learning and data science pipelines with optimised deep learning frameworks and analytics on Intel architecture. The components are built using oneAPI libraries for low-level compute optimisations and maximises performance from preprocessing through machine learning.
Google Cloud Smart Analytics is a flexible, open and secure data analytics platform that provides an easy path to becoming an intelligence-driven organisation. It works to build on decades of Google's innovation in AI and building internet-scale services and is based on the same proven and reliable technology principles that power Google's services (e.g. Search, Gmail, Maps, YouTube).
Organisations ultimately choose Google Cloud to build their data cloud because of its ability to fuel data-driven transformation. As a wide range of industries are using data and AI as a strategic asset, the platform delivers a wide range of analytics services including business, data science and marketing, to name a few.
******
For more insights into the world of AI - check out the latest edition of AI Magazine and be sure to follow us on LinkedIn & Twitter.
Other magazines that may be of interest - Technology Magazine | Cyber Magazine.
Please also check out our upcoming event - Cloud and 5G LIVE on October 11 and 12 2023.
******
BizClik is a global provider of B2B digital media platforms that cover Executive Communities for CEOs, CFOs, CMOs, Sustainability leaders, Procurement & Supply Chain leaders, Technology & AI leaders, Cyber leaders, FinTech & InsurTech leaders as well as covering industries such as Manufacturing, Mining, Energy, EV, Construction, Healthcare and Food.
BizClik – based in London, Dubai, and New York – offers services such as content creation, advertising & sponsorship solutions, webinars & events.