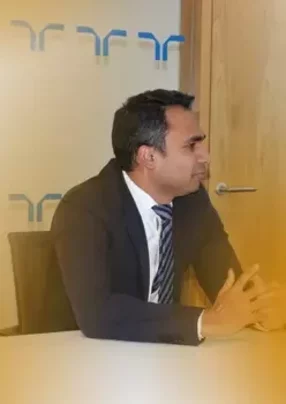 Abdul Manik
CIO & CTO, Randstad UK & Ireland

Abdul explains what it's like to orchestrate business transformation in an exciting human market affected by the shifting sands of behavioural change
Abdul Manik is the Chief Information Officer and Chief Technology Innovation Officer for Randstad UK & Ireland. His responsibilities lie with all things technology of course, but also for the overall business transformation; including the change management and strategic programme delivery required to run that transformation.
Abdul has experience with digital transformation for magic circle law firm Clifford Chance LLP and AON Consulting, as well as being the Director for Avon Cosmetics for Europe, the Middle East and Africa regions that covered 34 countries.
He has led transformation across multiple areas; including order management, global infrastructure and as a Head of Systems. But it is at Randstad that he has been able to work with colleagues and partners in a less transactional way: "Randstad is a very people and values-based organisation. I think that makes us different as an organisation."
Abdul has seen a big shift through the pandemic, in terms of the power shifting towards the candidates again after a tough time for job seekers in the market recently, as he says, "our customers and our clients are a lot more aware of their value and their demands. The candidates are being more selective in terms of where they want to operate, and why. Work is a package with many considerations."
Unifying Abdul and his stakeholders is the strategic scaffolding on Randstad's 5 core pillars of digital transformation; which are Client, Talent, Employee, Cybersecurity and Change.
A key part of the recent business transformation was a Unified Front Office (UFO) project, which covers the marketing, sales, and service departments. In these areas, understanding customer needs was crucial.
Then, the change the organisation wanted to see had to be communicated with a clear vision, followed by close guidance and training throughout the entire organisation. It required a significant change of products, people and the process.
What was meant to be a two-year project was (due to COVID-19) delivered in nine months: "This required a huge amount of involvement from every part of the organisation; from leadership and our key partners M|ployee, all the way through to admin at all levels. I'm so very proud of us coming together and delivering it".
The future is focused on back office transformation, because "that's where efficiency comes in. We're bringing all of our accounting systems and simplifying and optimising them at the same time. From a business people and process perspective, this is a tech change. We're also simplifying our business structure. So instead of having seven or eight different business entities, we're going to become one business entity.
"So this change is not just a product change or technology change. It's also a process change and a people change. We're really focusing on hyper automation to really drive the efficiency and make that the whole process model, so our people can focus on more exciting things as opposed to mundane routine stuff."
Read the full story HERE.
"My primary leadership style is trust. That to me is the most important and fundamental part of any effective leadership."