Efficient Generative AI Summit
Mon 11 Sep - Mon 11 Sep, 2023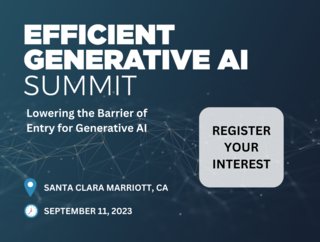 Efficient Generative AI Summit
Efficient Generative AI Summit – September 11, 2023 – Santa Clara Marriott, CA
The Efficient Generative AI Summit will take place on Sept 11 (at the Santa Clara Marriott) and put efficiency-boosting technologies in front of the vanguard of enterprises and software developers who are seriously looking at scaling generative AI projects or products.
The first of its kind, this inaugural event focuses on successfully developing generative AI in a more affordable, sustainable and efficient manner.
The summit will unite the leading experts in generative AI including high level enterprise technologists, application developers, model and infra builders.
Across a diverse agenda of panel discussions and presentations from industry leading generative AI experts, this one day summit will provide an opportunity to learn unique insights from industry leaders, discussing how they are tackling efficiency and sustainability challenges. Attendees will also benefit from varied opportunities to network and engage with other generative AI professionals throughout the summit.
Find out more here: https://www.aihwedgesummit.com/events/efficient-generative-ai-summit