Intelligent Automation Week Winter
Wed 30 Nov - Fri 02 Dec, 2022
Hilton St. Peterburg Carillon Park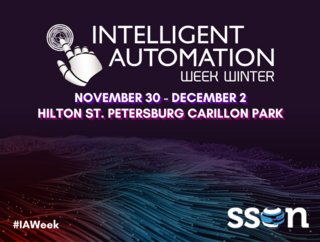 Intelligent Automation Week Winter November 30 – December 2
Intelligent Automation Week Winter takes place November 30 – December 2 at the Hilton St. Peterburg Carillon Park and combines expert speakers with hot industry topics.
Some of the topics that will be discussed include Digital Twinning, Hyper Automation, IDP, RPA, Attracting & Maintaining Senior Leadership, ROI of RPA and COE and much more.
Some of our expert speakers are from McDonald's, Southwest Airlines, Wells Fargo, Bank of America and Change Healthcare.
Download the agenda for free today: https://bit.ly/3Dkmc2b
-
Don't forget to use code AIMAGAZINE20 for 20% off your pass! Register today: https://bit.ly/3U1EpY9