Robotics and AI: transforming cancer diagnosis and treatment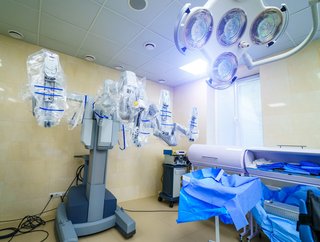 Robot surgeons and AI experts have moved from the research labs to the operating theatre as new technologies become real cancer healthcare products
Robots and artificial intelligence (AI) are saving lives and curing cancer thanks to advances in technologies set to revolutionise healthcare industries around the world.
Research institutes, non-profits and academic institutes are increasingly working with private companies large and small to bring these innovative products to market as quickly as possible.
Fujifilm partnered with Seoul-based AI company Lunit to further develop the company's chest X-ray software, Lunit INSIGHT CXR. The company's product range also includes Lunit INSIGHT MMG, an AI solution for mammography, and Lunit SCOPE, which uses AI for oncology treatments.
"Artificial intelligence is rapidly gaining ground in cancer research and it's exciting to see the excellent progress Lunit has made in developing innovative AI-powered radiology and pathology solutions that have the potential to significantly improve the diagnoses and treatment of cancer," says Guardant Health CEO Helmy Eltoukhy.
Last year also saw lung health specialist company Optellum enter into a strategic collaboration with Johnson & Johnson's Lung Cancer Initiative to increase lung cancer survival rates. Optellum will apply its AI-powered clinical decision support platform as part of the collaboration to support early intervention and prevention of lung cancer.
"The next step in lung cancer diagnosis and treatment is seeing the emerging new technologies coming together,"says Professor Sam Janes, MD, Head of the Respiratory Research Department at UCL Hospitals, Vice-Chair of the UK National Clinical Reference Group for Lung Cancer and member of the Optellum Medical Advisory Board. "AI is key to enabling integration of imaging, clinical, and molecular data—such as liquid biopsies—to diagnose disease even earlier. This convergence of technologies has tremendous potential to help physicians prevent, intercept, and ultimately cure patients with early-stage lung cancer."
iToBoS and V7 use AI to fight malignant cancer
Last month AI Magazine wrote about the iToBoS consortium awarded by the EU's Horizon 2020 program to develop a machine to scan patients and analyse moles at high resolution to spot anything that could lead to a health risk such as malignant melanoma
"Today going to the dermatologist requires them to manually place a dermoscope on each lesion to capture a picture, which is both time consuming and error prone," says Alberto Rizzoli, CEO and Co-Founder of consortium member V7. "With iToBos we can keep a record of previous scans and compare the exact spot where a lesion was identified previously to check whether it has changed in appearance signifying a potential risk, or if a new one has appeared."
And now robots carrying out the modern surgical technique Trans-Oral Robotic Surgery (TORS) can improve survival rates for those with head and neck cancers and reduce recovery time, suggests a new study led by researchers at The Royal Marsden NHS Foundation Trust.
Transoral Robotic Surgery for Recurrent Tumors of the Upper Aerodigestive Tract (RECUT): An International Cohort Study was published this month in the Journal of the National Cancer Institute.
It reveals TORS has taken two-year overall survival rates for recurrent head and neck cancer patients to 72% – providing it was detected at an early stage – which represents a significant improvement on other treatments available to this patient group. Previous studies have reported two-year survival rates for patients with recurrent head and neck cancer to be as low as 40%.
"These exciting results demonstrate that TORS offers durable survival for patients with recurrent head and neck cancer compared with current standard treatments, such as open surgery," says study lead Professor Vinidh Paleri, Consultant Head and Neck Surgeon at The Royal Marden NHS Foundation Trust.
AI and robots have a healthy future in hospitals
Robots are rapidly changing healthcare and making a significant impact in the field of medicine and AI and robotics have become a credible part of the healthcare ecosystem, says Dr Antonio Espingardeiro, IEEE member, software and robotics expert.
"As artificial intelligence becomes more sophisticated and can efficiently conduct tasks traditionally undertaken by humans, the potential for technology within the medical field is great," he says.
The next generation of surgical robots will generate a great deal of new value, explains Espingardeiro. Technology can relieve medical personnel from everyday tasks and free up resources for more urgent responsibilities, making medical operations safer and less expensive for patients in the process.
"In the case of surgical procedures, robotics can reduce human tremor and provide far less invasive surgeries which means less trauma for patients and faster recovery times."