Top 10 companies revolutionising finance with AI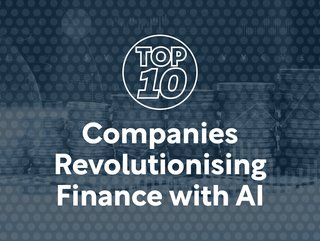 AI Magazine looks at 10 of the top companies revolutionising finance with AI
We look at 10 of the top companies using AI to transform the way financial institutions operate and serve their customers
From fighting fraud, to improving decision-making, automating processes, and enhancing customer experiences, today AI has a massive role to play in the financial world.
And as AI continues to advance, with the rise in generative AI only set to continue, the financial industry will likely see even more innovation and disruption in the coming years.
Here are some of the top benefits of using AI in the financial industry:
Enhanced Data Analysis and Insights:

AI algorithms can process vast amounts of financial data quickly and accurately. This allows financial institutions to gain deeper insights into market trends, customer behaviour, and investment opportunities. Predictive analytics powered by AI can forecast market movements and potential risks, aiding in more informed decision-making.

Improved Customer Experience:

Chatbots and virtual assistants powered by AI provide 24/7 customer support, addressing queries and resolving issues promptly. Personalised recommendations based on AI-driven analysis of customer data enhance cross-selling and upselling opportunities, resulting in more satisfied customers.

Fraud Detection and Prevention:

AI-driven fraud detection systems can analyse transactions in real time, identifying unusual patterns and anomalies that may indicate fraudulent activity. Machine learning models can adapt to evolving fraud tactics, staying one step ahead of cybercriminals.

Cost Reduction and Efficiency:

Automation of routine tasks, such as data entry and document verification, reduces operational costs and allows employees to focus on higher-value tasks. AI-driven robo-advisors can offer low-cost investment solutions, making financial services more accessible to a broader range of clients.

Risk Management and Compliance:

AI models can assess credit risk more accurately by considering a wider range of data points, resulting in more precise credit scoring. Compliance monitoring and reporting are streamlined through AI, helping financial institutions adhere to regulatory requirements and avoid penalties.
AI Magazine explores 10 of the top companies that are revolutionising the world of finance with AI solutions.
10: HighRadius
HighRadius is a leading provider of cloud-based autonomous software for the office of the CFO. More than 800 of the world's top companies – including 3M, Unilever, Anheuser-Busch InBev, Sanofi, Kellogg Company, Danone, and Hershey's – rely on HighRadius to transform their order-to-cash, treasury, and record-to-report processes.
Its Autonomous Finance platform is a next-gen finance platform that continuously learns from organisations' ever-changing finance and accounting transaction data. It predicts business outcomes through proactive decision-making for improved working capital impact, enhanced customer experience, and accurate cash forecasting.
9: DataRobot
AI platform DataRobot allows financial services companies to automate the painful parts of the machine learning lifecycle, giving data science teams the time and tools to focus on business impact. Its clients are able to better understand, govern, and evaluate both predictive and generative AI models, find investment opportunities quickly, expand their portfolios, and nimbly respond to rapidly changing market conditions.
DataRobot is trusted by eight out of the top 10 US banks, and four of the top 10 banks globally.
8: C3.ai
C3 AI is a leading Enterprise AI software provider for accelerating digital transformation. Its proven C3 AI Platform provides comprehensive services to build enterprise-scale AI applications more efficiently and cost-effectively than alternative approaches.
C3 AI's SaaS applications for AI CRM, Smart Lending, Cash Management, Anti-Money Laundering, and other high-impact use cases can be quickly customised and deployed in as little as three or six months, scaled across banking, wealth management, asset management, and insurance operations to yield business value of more than US$100m annually.
7: Salesforce
With a Salesforce study showing 76% of financial services employees believe generative AI will help them better serve their customers, the CRM leader provides a number of solutions for financial institutions.
Its Einstein platform is pre-engineered throughout Salesforce's Service Cloud, with financial services organisations including Aegon UK and Tandem Bank using it as part of their next generation contact centre operations.
Service Cloud helps financial services companies create loyal customers and more satisfied agents. AI is built straight into the process flow from the start, which allows implementation to be brought down to a matter of days.
6: SAP
SAP's solutions help financial institutions automate tasks and make better decisions with AI.
Finance operations can be transformed with AI-powered insights, recommendations, and automation built into SAP applications. Infusing finance processes with AI can help grow finance teams' efficiency and business foresight, while enhancing organisations' security and compliance.
SAP's AI technology also streamlines the financial close process by leveraging ML to identify and resolve discrepancies between intercompany transactions. The process of closing books becomes faster and more efficient, as large volumes of data can be processed with ease and pre-defined automated workflows can be used.
5: IBM
IBM Cloud for Financial Services is designed to help clients mitigate risk and accelerate cloud adoption for even their most sensitive workloads. Security and controls are built into the platform to enable financial institutions to automate their security and compliance posture, and make it easier for clients to simplify their risk management and demonstrate regulatory compliance postures.
IBM has been working with the financial services industry for decades and helped businesses enhance their use of AI-powered intelligent workflows to drive efficiency and strengthen customer relationships. Meanwhile, generative AI offers such as IBM watsonx offer exciting possibilities in financial advisory and data analysis.
4: Alibaba Cloud
The financial industry is leveraging AI to enhance fraud detection, risk assessment, customer service, and financial planning. Alibaba Cloud's AI solutions for the finance sector provide robust data analytics, anomaly detection, and anti-fraud capabilities. These solutions empower financial institutions to automate processes, optimise operations, and deliver personalised financial services.
Its Digital Credit Lending AI solution allows financial institutions to dynamically develop, train, and deploy credit risk and fraud risk models to decide digital lending applications in real-time and control risks.
3: AWS
AWS is a pioneer at the intersection of financial services and technology, enabling customers to optimise operations and accelerate innovation through the broadest set of services and partner solutions—all while adapting to ever-changing regulations. Thousands of financial services firms, from the fastest-growing fintechs to systemically important financial institutions, are redefining their future on AWS.
With AWS, customers can automate and personalise experiences, enhance analytics, and increase efficiency on the most secure, scalable, and resilient cloud.
Microsoft's Azure platform revolutionises the financial services industry by unlocking new opportunities that enhance banking, transform trading, and personalise insurance software systems. With Microsoft Azure, financial organisations can confidently elevate customer experiences with advanced infrastructure and security.
Its Azure AI & Machine Learning specialities enable organisations to build the next generation of intelligent financial services and create sophisticated financial models with proven, secure, and responsible AI.
1: Google Cloud

Google Cloud offers a range of services to financial organisations, using AI to help solve their biggest challenges.
Its Anti Money Laundering AI capability can detect suspicious, potential money laundering activity faster and more precisely with AI. AI-powered transaction monitoring can replace the manually defined, rules-based approach and harness the power of financial institutions' own data to train advanced machine learning (ML) models to provide a comprehensive view of risk scores.
Meanwhile Google Cloud's Contact Center AI offers natural interactions that redefine the possibilities of AI-powered conversation, lowering costs and freeing up human agents' time.
Some of the world's most successful banks, investment firms, insurance companies, and payments providers use Google Cloud to transform and grow their businesses, including Nationwide, Allianz, AXA and Revolut.
******
For more insights into the world of AI - check out the latest edition of AI Magazine and be sure to follow us on LinkedIn & Twitter.
Other magazines that may be of interest - Technology Magazine | Cyber Magazine.
Please also check out our upcoming event - Cloud and 5G LIVE on October 11 and 12 2023.
******
BizClik is a global provider of B2B digital media platforms that cover Executive Communities for CEOs, CFOs, CMOs, Sustainability leaders, Procurement & Supply Chain leaders, Technology & AI leaders, Cyber leaders, FinTech & InsurTech leaders as well as covering industries such as Manufacturing, Mining, Energy, EV, Construction, Healthcare and Food.
BizClik – based in London, Dubai, and New York – offers services such as content creation, advertising & sponsorship solutions, webinars & events.