Ousted OpenAI co-founders join Microsoft to head AI research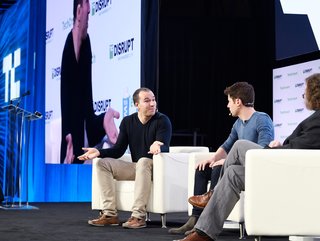 Former OpenAI executives Greg Brockman (left) and Sam Altman (middle) speaking onstage during TechCrunch Disrupt San Francisco 2019 (Steve Jennings/Getty Images for TechCrunch / CC BY 2.0 DEED)
OpenAI's former CEO Sam Altman and President Greg Brockman will join Microsoft to lead a new advanced AI research team, Microsoft CEO Satya Nadella says
Ousted OpenAI CEO Sam Altman and its former President Greg Brockman will join Microsoft to lead a new advanced AI research team, the company has said, following a turbulent weekend for one of the most influential companies in the world of AI.
The company behind ChatGPT announced on 17th November that Altman would be departing as its CEO and leave the board of directors, claiming 'he was not consistently candid in his communications with the board' and that the board no longer had confidence in his ability to lead the company.
OpenAI's board of directors consists of its chief scientist Ilya Sutskever, along with independent directors Quora CEO Adam D'Angelo, technology entrepreneur Tasha McCauley, and Georgetown Center for Security and Emerging Technology's Helen Toner.
OpenAI's former President and Chairman of the Board Brockman left the company shortly after. OpenAI initially announced he would remain in his role at the company, but writing on X (formerly Twitter) Brockman wrote that he and Altman were "shocked and saddened" by the board's actions.
OpenAI leadership announcement prompts speculation
In a statement, the board of directors said: "OpenAI was deliberately structured to advance our mission: to ensure that artificial general intelligence benefits all humanity. The board remains fully committed to serving this mission. We are grateful for Sam's many contributions to the founding and growth of OpenAI. At the same time, we believe new leadership is necessary as we move forward."
The news prompted wide speculation, including that Altman could even return to OpenAI – posting a photograph of himself attending the company's San Francisco headquarters on Sunday with a visitors pass.According to the Financial Times, venture backers and executives at Microsoft were among those exploring a number of options including removing the board and reinstating Altman.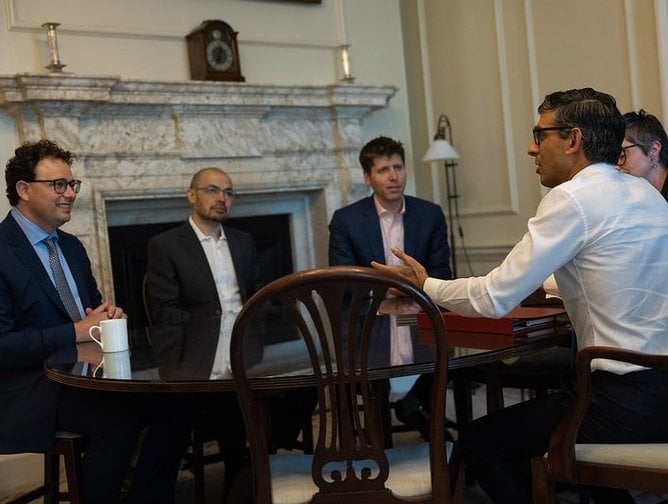 Altman (third from left) was among the three AI leaders to meet with British Prime Minister Rishi Sunak ahead of the UK's AI Summit in November. Pic Simon Walker / No 10 Downing Street CC BY 2.0 DEED
But on Monday Microsoft's CEO and President Satya Nadella announced that Altman and Brockman would be joining Microsoft. Emmett Shear, CEO of the streaming platform Twitch, has been reportedly appointed as the new interim CEO of OpenAI.
Microsoft 'remains committed' to OpenAI partnership as former leaders to lead AI research team
Following previous investments in 2019 and 2021, in January Microsoft announced a multibillion-dollar investment in OpenAI, intended to accelerate AI breakthroughs.
"We remain committed to our partnership with OpenAI and have confidence in our product roadmap, our ability to continue to innovate with everything we announced at Microsoft Ignite, and in continuing to support our customers and partners," wrote Nadella.
"We're extremely excited to share the news that Sam Altman and Greg Brockman, together with colleagues, will be joining Microsoft to lead a new advanced AI research team."
Altman, Nadella said, will be the CEO of this new group. Brockman wrote on X that the group's initial leadership would also include Jakub Pachocki, OpenAI's GPT-4 Lead, Szymon Sidor and Aleksander Madry.
******
For more insights into the world of AI - check out the latest edition of AI Magazine and be sure to follow us on LinkedIn & Twitter.
Other magazines that may be of interest - Technology Magazine | Cyber Magazine.
Please also check out our upcoming event - Sustainability LIVE Net Zero on 6 and 7 March 2024.
******
BizClik is a global provider of B2B digital media platforms that cover Executive Communities for CEOs, CFOs, CMOs, Sustainability leaders, Procurement & Supply Chain leaders, Technology & AI leaders, Cyber leaders, FinTech & InsurTech leaders as well as covering industries such as Manufacturing, Mining, Energy, EV, Construction, Healthcare and Food.
BizClik – based in London, Dubai, and New York – offers services such as content creation, advertising & sponsorship solutions, webinars & events.