Improving business efficiency with intelligent automation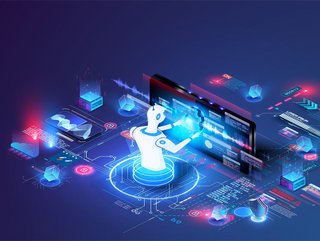 Supported by SS&C Blue Prism, a new Everest Group Pinnacle Model study outlines the number of benefits intelligent automation provides for the enterprise
This latest Pinnacle Model study highlights the importance of intelligent automation (IA) and shows that enterprises that are prioritising developing their IA capabilities see the most improvements in operational efficiency, employee productivity and customer experience - all key drivers for intelligent automation adoption.
The business benefits come as no surprise as the market for hyperautomation-enabling technologies continues to rapidly grow and according to Gartner, it is expected to reach nearly USD$600bn this year.
Commenting on this research Fabrizio Biscotti, research vice president at Gartner said: "Hyperautomation has shifted from an option to a condition of survival. Organisations will require more IT and business process automation as they are forced to accelerate digital transformation plans in a post-COVID-19, digital-first world."
From the study, it was found those who had invested in advanced IA capabilities were able to:
Generate 2.3x the return on investment and 3.7x the cost savings from IA initiatives compared to enterprises with lower levels of automation
Benefit from a 62% overall improvement in operational metrics when compared to pre-automation figures. These include higher employee productivity, operational efficiency and quality, turnaround time, process governance and regulatory compliance – all key to overall business performance
Almost double their revenue over 2.5 years, highlighting IA's boosting effect on business operations
Improve customer experience by 55% and employee experience by 52%
What is intelligent automation?
Also known as cognitive automation, IA is the use of automation technologies – artificial intelligence (AI), business process management (BPM), and robotic process automation (RPA) – to streamline and scale decision-making across organisations.
AI is critical to IA. Through the implementation of machine learning (ML) and complex algorithms, businesses can analyse both structured and unstructured data to develop a knowledge base and formulate predictions based on that data.
Ultimately, this creates a decision engine for IA applications.
BPM automates workflows to provide greater agility and consistency to processes. Used across most industries to streamline processes, BPM also improves interactions and engagements for business - making it a core component of IA.
Finally, RPA acts as the third component as it complements AI while leveraging AI insights to handle more complex tasks and use cases. Together, this technology creates a transformative solution that streamlines processes and simplifies workflows.
In doing so, it helps businesses improve the customer experience.
Improving industries with IA
IA can benefit a number of industries, in the automotive industry, for example, a manufacturer can utilise IA to speed up production or reduce the risk of human error. Manufacturers can also more effectively predict and adjust production to respond to changes in supply and demand.
In pharmaceutical or life sciences companies, IA can be applied to reduce costs and gain resource efficiencies where repetitive processes exist. As drug production is highly regulated, trials cannot be deemed successful without trusted analysis and results.
As manual approaches can lead to a number of errors, as well as taking a lot of time and resources, IA can remove this issue and do the analysis itself. A key application of this was during the recent COVID-19 pandemic where IA was invaluable as vaccine developers raced to create a successful vaccine to fight the virus. The production of these vaccines was completed in a record time and IA was a key driver in this.
Furthermore, IA can almost eliminate the need for manual calculations in the insurance industry. It can also simplify paperwork processing such as claims and appraisals. IA can also help as insurance companies look to adhere to compliance regulations more easily by ensuring that requirements are met.