Emmett Shear: Who is the new interim CEO of OpenAI?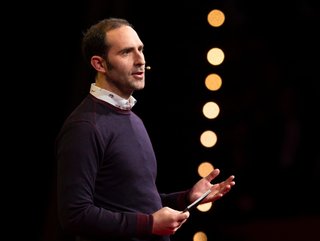 Emmett Shear now finds himself at the helm of one of the largest and most high-profile AI companies in the world (Image: Lawrence Sumulong / TED / CC BY-NC-ND 2.0 DEED)
Newly announced interim CEO of OpenAI, Emmett Shear, replaces Sam Altman and is keen to continue advocating for AI safety and business responsibility
OpenAI, the company that created ChatGPT, has named Emmett Shear as its interim chief executive officer (CEO) after former head Sam Altman was removed last week.
Shear was named by the board on 19th November 2023 as CEO two days after Altman's dismissal. These sudden changes mark a series of surprising announcements within the AI technology sector, with OpenAI President and Co-founder Greg Brockman also departing the organisation.
Emmett Shear was part of the startup accelerator Y Combinator along with Altman and is well-known for being an outspoken advocate of AI safety and responsibility in a dramatically changing technology landscape.
Navigating the ever-changing technology landscape
Emmett Shear grew up in Seattle, where he met his eventual co-founder Justin Kan at the age of eight 8. He then went on to gain a Bachelor of Science majoring in Computer Science in 2005 from Yale University, which he attended with Kan and fellow co-founder Michael Siebel.
Together, the three pioneered Y Combinator, of which Shear is still a part-time partner, which is an American technology startup accelerator launched in March 2005. The organisation has since been used to launch more than 4,000 companies, teaching founders how to market their product, refine their business models and scaling their startup to become a high growth business.
In 2006, Shear was part of the team that pioneered Justin.tv, a 24/7 live video feed of Kan's life, which was broadcast via a webcam attached to his head. This then ultimately led to the business transitioning to become a live video platform for anyone to publish a livestream. Re-launching in 2007, Justin.tv quickly became one of the largest live video platforms in the world with more than 30 million unique users every month until it was shut down in 2014.
Kan and Shear then created Twitch, which originally acted like a spin-off of Justin.tv, but now boasts 140 million monthly active users. Shear became CEO of Twitch in 2011 and held this position until March 2023.
Not without risk: a duty to harness responsible AI
Emmett Shear now finds himself at the helm of one of the largest and most high-profile AI companies in the world.
Making an announcement on X (formerly Twitter), he said: "I took this job because I believe that OpenAI is one of the most important companies currently in existence. When the board shared the situation and asked me to take the role, I did not make the decision lightly. Ultimately I felt that I had a duty to help if I could."
This transformative change to OpenAI comes at a time where the impact of AI on humanity is very much being discussed globally. It also comes very shortly after the UK AI Safety Summit which brought together world leaders and industry executives to acknowledge a collaborative need to address AI risks.
OpenAI is one such organisation that has been committed to harnessing AI for good, but has also been able to commercialise its AI models very quickly over the past twelve months. In the past, Emmett Shear has always been very vocal about the importance of AI safety as the technology continues to develop, saying of OpenAI: "It's not just an incredible research project and software product, but an incredible company."
Shear's appointment also coincides with Sam Altman being hired by Microsoft to lead an advanced AI research team. A giant shift in the AI industry such as this is sure to result in much change in the coming months, with Microsoft CEO Satya Nadella stating: "We remain committed to our partnership with OpenAI and have confidence in our product roadmap.
"We look forward to getting to know Emmett Shear and OAI's new leadership team and working with them."
******
For more insights into the world of AI - check out the latest edition of AI Magazine and be sure to follow us on LinkedIn & Twitter.
Other magazines that may be of interest - Technology Magazine | Cyber Magazine.
Please also check out our upcoming event - Sustainability LIVE Net Zero on 6 and 7 March 2024.
******
BizClik is a global provider of B2B digital media platforms that cover Executive Communities for CEOs, CFOs, CMOs, Sustainability leaders, Procurement & Supply Chain leaders, Technology & AI leaders, Cyber leaders, FinTech & InsurTech leaders as well as covering industries such as Manufacturing, Mining, Energy, EV, Construction, Healthcare and Food.
BizClik – based in London, Dubai, and New York – offers services such as content creation, advertising & sponsorship solutions, webinars & events.