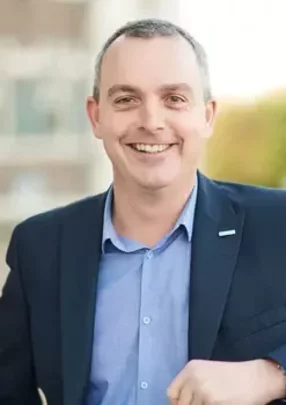 Jonathan Tucker
GM - Solutions & Engineering, Panasonic
Three executives at Panasonic provide their insight into how the company builds, maintains and expands its customer relationships using technology...
Combining over 50 years of experience between them, John Harris, GM for European Tech Strategy at Panasonic Toughbook, Ian Woozley, Head of Supply Chain Solutions UK&I and France at Panasonic Business, and Jonathan Tucker, GM for Solutions Development and Implementation at Panasonic Toughbook are experts in understanding, anticipating and resolving the challenges faced by customers with a clearly defined approach for delivering quality outcomes.
Harris summarises it succinctly, "It's always been about solving problems or solving a need with innovative products." Indeed, the company's daily ethos is to contribute value to customer's lives through what it creates. "We're very much an engineering company," adds Tucker. "Our position as a historically well-known brand has been solidified by our consumer goods items, TVs, and DVD players." However, not satisfied with merely enjoying the rich legacy that it has accumulated, Panasonic continues to keep its sights fixed firmly on the future: 7% of its global turnover is reinvested in R&D (research and development), an approach which has netted the company substantial acclaim from consumers and a robust portfolio of over 15,000 products.
Tucker clarifies that the company, first and foremost, values its employees and clientele above all. "What I love about the organisation is the degree of autonomy we're given to go and try something new. It's very much a people before products attitude." It is because of this that Panasonic positions itself as a problem-solver, which subsequently means that it keeps abreast of the latest industry challenges and stays relevant to customers. Furthermore, rather than simply find surface-level workarounds, the company develops holistic solutions that incorporate hardware, software and aftercare to ensure long-term value. It develops these solutions shoulder-to-shoulder with the client themselves, building strong, durable relationships which recognise the quality of Panasonic's work. "Our focus now is to replicate the success that we've built in Japan and bring it to the Western world," says Woozley. 
Trends such as automation can similarly unlock pathways to business optimisation, but Woozley makes it clear that the most effective automation shouldn't sacrifice the human touch. "A lot of what Panasonic is exploring is based on partial automation and the retention of workers. Full automation isn't necessary, although it can be done; we consider partial automation more than adequate to improve workspaces and create a more efficient business in many circumstances." It is this ability to see past the mere novelty of new technology and instead focus on its customer-centric application which distinguishes Panasonic from competitors in the field and will continue to shape its approach going forward. "We want to understand what the challenges customers are experiencing and use our insights to solve them. It's about finding those tension points and then actioning them before they become pain points," Harris concludes. 
"My primary leadership style is trust. That to me is the most important and fundamental part of any effective leadership."