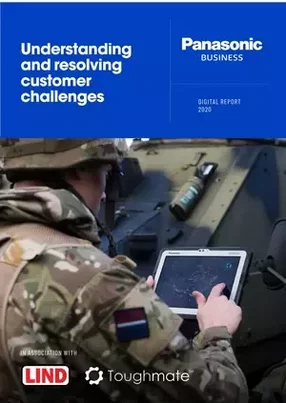 Panasonic: using technology to address customer challenges
Three executives at Panasonic provide their insight into how the company builds, maintains and expands its customer relationships using technology...
 Now in its 102nd year, Panasonic has transformed itself from a small electronics manufacturer making components including lightbulb sockets in Osaka, Japan into one of the world's most successful consumer electronics corporations and provider of B2B technology solutions. Although technological innovation and sophistication have been a crucial part of that journey, it is likely that Panasonic's success would have taken a different form were it not for its equal dedication to customer-centric operations and engaged problem-solving. To learn more about how the company continues to exceed expectations by understanding, anticipating and resolving the challenges faced by its customers, we spoke with John Harris, GM for European Tech Strategy at Panasonic Toughbook, Ian Woozley, Head of Supply Chain Solutions UK&I and France at Panasonic Business, and Jonathan Tucker, GM for Solutions and Engineering at Panasonic and GM for Solutions Development and Implementation at Panasonic Toughbook and Toughpad.   
When considering the recurring patterns which are driving the company's success, Harris summarises it succinctly, "It's always been about solving problems or solving a need with innovative products." Indeed, the company's daily ethos is to contribute value to customer's lives through what it creates. "We're very much an engineering company," adds Tucker. "Our position as a historically well-known brand has been solidified by our consumer goods items, TVs, and DVD players." However, not satisfied with merely enjoying the rich legacy that it has accumulated, Panasonic continues to keep its sights fixed firmly on the future: circa 6% of its global turnover is reinvested in R&D (research and development), an approach which has netted the company substantial acclaim from consumers and a robust portfolio of over 15,000 products.
Despite this impressive range, Tucker clarifies that the company, first and foremost, values its employees and clientele above all. "What I love about the organisation is the degree of autonomy we're given to go and try something new. It's very much a people before products attitude." It is because of this that Panasonic positions itself as a problem-solver, which subsequently means that it keeps abreast of the latest industry challenges and stays relevant to customers. Furthermore, rather than simply finding surface-level workarounds, the company develops holistic solutions that incorporate hardware, software and aftercare to ensure long-term value. It develops these solutions shoulder-to-shoulder with the client themselves, building strong, durable relationships which recognise the quality of Panasonic's work. "Our focus now is to replicate the success that we've built in Japan and bring it to the Western world," says Woozley. 
Underpinning this desire for greater brand expansion is 'Gemba process innovation', a cultural transformation strategy being driven by Japan. Originating from the Japanese word 'Gemba' meaning 'where it happens' or 'the actual place', Gemba process innovation is a management philosophy which induces thought on the optimal method for innovating and streamlining an aspect of business in an environment of rapidly changing conditions and customer requirements. "Enhancing our world by providing ever greater convenience is a major challenge for people at any enterprise. Fundamental solutions to complex issues require process innovation where things get made or distributed. Our unique insight allows us to propose and enact comprehensive gemba-focused solutions that address today's changing value network. By proactively bringing about innovation within our customers' gemba operations, we are helping to ensure a better life, a better world," says Woozley. "Our goal is to bridge the physical and digital worlds using our technology and provide the know-how to become a trusted technology partner." The company positions itself in this space according to three core strengths: 1) More than a century of experience within the manufacturing sector; 2) A portfolio of differentiated technology, including robotics, image processing, sensors and more; and 3) A storied reputation of trust within the business community: B2B represents a large proportion of company sales and its clientele extends across several industry segments. Summarising the programme, Woozley adds, "Gemba process innovation is about focusing on the job at hand, knowing what the client's trying to do and bringing the experience which Panasonic has accumulated over the last 100 years to help them get there."
One poignant example of this process in action within Panasonic itself is its Toughbook product. Originally introduced in 1996 with the CF-25 model and still popular to the present day through various iterations, Toughbook is a rugged laptop aimed at workers in the field who operate within industrial sectors, such as construction, oil and gas or utilities. Although a product which has stood the test of time, Harris emphasises that this doesn't mean Panasonic's strategy hasn't needed to still remain flexible. "It used to be a case that 20 to 25 years ago you would look at older generation technology and put it in a hard shell. Things are a little bit different nowadays: you've got to be very aware of the user's expectations." Indeed, the company has kept on top of developing tech trends for customers by scoring some 'industry firsts' in its Toughbook line, including the first mobile computer with Bluetooth capabilities (CF-M34), the first rugged tablet concept (CF-07) and the first rugged personal digital assistant (CF-P1). Over time, the Toughbook line has also included rugged smartphone designs (FZ-X1 and FZ-E1), the Toughpad (JT-B1) and many others. "We had to create agile, mobile working solutions for engineers so they wouldn't have to go to a depot every day to pick up paperwork; they now have the convenience to start work from their house," Tucker says. "Some of those models have taken off slowly and evolved into other types of solutions. But that innovation is why we've led the market."
Panasonic's Toughbook product displays its ethos of making technology which is durable, easy to use and tailored specifically to the people who use it. "It's a tool like any other," continues Tucker. "It's like a spanner or a screwdriver; it's the tool that our customers use to get the information they require to do their jobs, to be more productive and more efficient." Panasonic's approach could be summarised, then, as creating tech products with the utility and reliability of a hammer. It's a refreshingly straightforward approach to digital transformation, focusing on what is useful for the customer and disregarding aspects which do not contribute towards this goal. However, Woozley clarifies, this isn't to say that Panasonic has been sluggish in terms of corporate transformation either. "I think COVID-19 has pulled our digitalisation plans forward, particularly with video conferencing and remote working." For a company which prides itself on face-to-face interaction with customers, the 'new normal' changes this dynamic but doesn't fundamentally alter how it wants to do business. "Panasonic's goal is to provide the right tools to the right people at the right time." Harris adds to this point, saying: "For me, the story of digital transformation really starts with the customer."
This is where a wider series of strategic collaborations and acquisitions with other entities such as Zetes, wholly owned by Panasonic, and Blue Yonder, in which Panasonic holds a 20% stake, play a key role: providing digital transformation solutions to customers across their supply chain. Asking questions and interacting with other entities keeps Panasonic at the forefront of evolving customer needs: "We're always thinking 'how do we digitalise that process?' or 'how do we take something that would have traditionally been manual and challenging and make it smart and easier?'" Woozley states. "It's a journey that we're constantly embarking on, working out what data can be made actionable." This has also led the company to explore applications for technology like thermal and depth measurement cameras, something which Tucker says marries closely with the Gemba programme. "We've got a number of large organisations trialling this equipment. Over the next 12 to 24 months, we'll take the collected data and then present it in an intelligible way which will help people increase their productivity and efficiency."
Trends such as automation can similarly unlock pathways to business optimisation, but Woozley makes it clear that the most effective automation shouldn't sacrifice the human touch. "A lot of what Panasonic is exploring is based on partial automation and the retention of workers. Full automation isn't necessary, although it can be done; we consider partial automation more than adequate to improve workspaces and create a more efficient business in many circumstances." It is this ability to see past the mere novelty of new technology and instead focus on its customer-centric application which distinguishes Panasonic from competitors in the field and will continue to shape its approach going forward. "We want to understand what the challenges customers are experiencing and use our insights to solve them. It's about finding those tension points and then actioning them before they become pain points," Harris concludes.