Top 10 companies helping businesses make sense of big data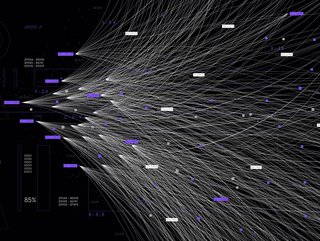 As the big data market continues to grow, we take a look at the top companies helping customers analyse and generate insights from their complex datasets
The global big data and business analytics market size was valued at US$198.08bn in 2020, and is projected to reach US$684.12bn by 2030. With this significant growth, it comes as no surprise that the term 'big data' is used frequently in the technology world and many businesses are now reaping the benefits of harnessing such data.
Big data describes the large volume of data in a structured and unstructured manner. Large and highly complex, big data sets tend to be generated from new data sources and can be used to address business problems many businesses wouldn't have been able to tackle before.
Helping to move businesses forward, big data is very valuable, but, it is a lot for traditional software to handle and many companies have turned to software providers to help them make sense of the new and complex datasets their business operations generate.
In response to this, a number of companies have emerged over the years to provide solutions for organising huge datasets and understanding the relevant information within them. Here, we look at some of the top companies in the big data space…
10. Starburst Data
With a platform that offers a single point of access to all company data, Starburst Data allows organisations to access distributed data capabilities. Starburst's platform features an ultra-fast SQL-based MPP query engine built on Trino to provide teams with a query tool that is separate from the platform's data warehousing system. This makes it perfect for data scientists, analysts, marketers and finance teams at companies of all sizes.
9. DISQO
Working with brands, publishers, agencies and market researchers, DISQO looks to provide audience insights acquired through open sharing and transparency. Utilising seamless API integrations and managed services, DISQO's platform tracks brand insights and customer behavioural data across the web. In doing so, it allows customers to understand what people think and do throughout the entire brand experience.
8. Noodle.ai
Founded in 2016, Noodle.ai's supercomputing and data science platform detects patterns within a company's external and internal data. With its platform, the company manages risks in the digital supply chain to conquer hidden waste and boost profits. The company's mathematical modelling ensures the best operating plan is identified from billions of opportunities.
7. Intellias
Offering intelligent software engineering, Intellias has expertise across a wide array of verticals, including FinTech, retail, telecom and insurance. The company leverage advanced big data and business intelligence tools to help clients extract actionable insights from diverse data sets generated in real-time and at a large scale. With this service, Intellias enable organisations to consolidate massive volumes of structured, semi-structured, and unstructured data coming from different sources into a holistic environment. This can then be used for modelling and predicting new market opportunities.

6. Alteryx
Bringing big data analytics processing to a wide variety of popular databases, including Amazon Redshift, SAP HANA and Oracle, Alteryx performs analytics within the database. Offering a no-code platform, Alteryx's clients can select, filter, create formulas, and build summaries where the data lies. Queries can be made from anything from a history of sales transactions to social media activity. Ultimately, Alteryx wants to empower customers to democratise their data, automate analytic processes and cultivate a data-savvy workforce.

5. Cloudera
Cloudera, a hybrid cloud data company, supplies a cloud platform for analytics and machine learning built by people from leading companies like Google, Yahoo!, Facebook and Oracle. The technology gives companies a comprehensive view of its data in one place, providing clearer insights and better protection. Cloudera's data services are modular practitioner-focused analytic capabilities, providing a consistent experience in any cloud. They can be standalone offerings or integrated into solutions that deliver a seamless data lifecycle experience.
4. Informatica
Collecting data from any source, Informatica's intelligent data platform transforms data into safe and accessible datasets. Its modular platform gives companies the flexibility to scale, adding management products as data grows. Its Intelligent Data Management Cloud platform is the industry's first and most comprehensive AI-powered data management platform that boosts revenue, increases agility and drives efficiency for its customers.
3. Teradata
Software and data company, Teradata provides solutions to help with analytical challenges and queries. The platform provides analytics at scale, simplifying user experience. Its big data solutions help customers improve customer experience, asset optimisation and product innovation through data analytics. Based on sector-specific knowledge, integration maps, and experience, Teradata solutions are tailored for the unique needs, issues, and opportunities of industries and customised for individual companies. Teradata is used by major brands like Verizon, P&G, Columbia Sportswear, American Red Cross and Warner Brothers.
2. Snowflake
Snowflake is a cloud-native company offering a cloud-based data platform that features a cloud data lake and a data warehouse as a service. Leveraging the best of big data and cloud technology, Snowflake enables users to mine vast quantities of data using the cloud, its Data Exchange helps companies share data in a secure environment. The company runs on Microsoft Azure, AWS and Google Cloud.
1. Salesforce
Following its purchase of Tableau Systems, a data visualisation firm that looks at big data research, Salesforce became a strong data analytics software vendor. The company is one of the most well-known CRMs and lets companies log, manage and analyse customer data, information and activity. The platform is accessible from any location and helps sales and marketing teams integrate across apps and devices to ensure all crucial customer data is in one place.