AI to assist in marketing digital transformation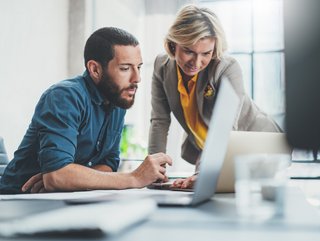 The majority of marketers (55%) manage over 1,000 digital assets
In the face of an ever-growing volume of digital assets, marketing teams are struggling to maintain brand consistency across their websites
Artificial intelligence (AI) is rapidly evolving, leading to the development of new and innovative AI tools. In today's digital landscape, these tools are being used by businesses of all sizes and across all industries to automate tasks, improve efficiency, and gain a competitive edge.
In order to address the challenge that marketing teams seem to face today, the leading content management system (CMS) Storyblok has partnered with global digital asset management (DAM) company Bynder, to enable marketing teams to streamline their content creation, enhance brand consistency, and accelerate time to market.
A recent global survey of 500 marketers which was commissioned by Storyblok, revealed that the sheer volume of digital assets and the multitude of channels to manage are causing significant headaches for marketers. These complexities lead to time-consuming asset management tasks and an increased risk of content inconsistencies.
Key findings:
The majority of marketers (55%) manage over 1,000 digital assets

Marketers are supporting an increasing number of channels with their assets, with 37% supporting 5-10 channels and 18% supporting more than 10 channels

Asset management is a time-consuming task, with 37% of marketers spending 5-10 hours on it each month and 27% spending more than 10 hours each month

Managing access rights is the biggest pain point of asset management, followed by finding and organising files

Content mistakes are common, with 48% of marketers reporting that they have made a mistake in their asset manager that caused content problems

AI is being used more and more to help create digital content, with 64% of marketers using it very regularly or regularly
AI's impact on marketing workloads
The Storyblok and Bynder partnership aims to alleviate the pressures that marketers face, by providing a unified platform for managing and distributing digital assets. With this integration, marketing teams can easily access and use assets stored in Bynder directly within the Storyblok CMS, which then eliminates the need for manual asset uploads and ensures that all content is up-to-date and on-brand.
"Assets serve as the fundamental building blocks for crafting digital experiences," explains Barry D'Arcy, VP of Partners at Storyblok. "Our collaboration with Bynder seamlessly integrates their top-tier enterprise digital asset management solution with Storyblok, enabling businesses to effortlessly leverage their entire asset library and restore order within the realm of content chaos."
The benefits of this partnership extend beyond streamlined asset management. By enabling seamless collaboration between marketing and creative teams, the integration facilitates faster content creation and publishing, which in turn, accelerates time to market and allows businesses to respond quickly to market trends and customer demands.
Brad Kofoed, SVP of Global Alliances at Bynder says: "Storyblok's survey highlights the challenges that organisations are facing in managing the growing volume, variety and speed of content that needs to be created and distributed to support digital commerce.
"Increasingly, content is seen as a strategic business asset that enables organisations to deliver exceptional content experiences across complex omnichannel buyer journeys. Our partnership with Storyblok is a key integration that will aim to help teams with exactly that - providing content consistency, ease of distribution and faster speed to market by making on-brand content directly available in the CMS."
Will AI replace marketers?
The impact of AI on marketing jobs is debatable. Some believe that AI will replace many marketing jobs, while others believe that it will simply enhance the skills of employees. There is no doubt though that AI is already having a significant impact on the marketing industry. AI-powered tools are being used to automate a variety of tasks, such as data analysis, ad targeting, and customer service, which is leading to some job displacement, as AI is able to perform these tasks more efficiently and accurately than humans.
However, it is important to remember that AI is not a replacement for human creativity and empathy. These are essential skills for marketing and creative professionals, skills that AI is unlikely to be able to replicate in the near future, and as a result, many marketing jobs are likely to remain safe from AI automation.
******
For more insights into the world of AI - check out the latest edition of AI Magazine and be sure to follow us on LinkedIn & Twitter.
Other magazines that may be of interest - Technology Magazine | Cyber Magazine.
Please also check out our upcoming event - Net Zero LIVE on 6 and 7 March 2024.
******
BizClik is a global provider of B2B digital media platforms that cover Executive Communities for CEOs, CFOs, CMOs, Sustainability leaders, Procurement & Supply Chain leaders, Technology & AI leaders, Cyber leaders, FinTech & InsurTech leaders as well as covering industries such as Manufacturing, Mining, Energy, EV, Construction, Healthcare and Food.
BizClik – based in London, Dubai, and New York – offers services such as content creation, advertising & sponsorship solutions, webinars & events.