Top 10 Companies Changing the Future of Finance with AI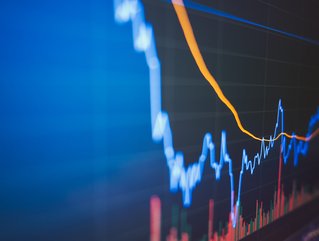 Graph
From fraud prevention to customer insights, AI Magazine discovers more about 10 leading companies using artificial intelligence to revolutionise finance
As the financial industry continues to evolve, AI has emerged as a key player in transforming financial services' delivery. With AI-powered solutions, financial institutions can offer more personalised services, better use of data, and streamlined operations – among other benefits.
From fintech startups to global financial institutions, these companies are integrating AI to revolutionise the financial services sector. With machine learning (ML) algorithms, natural language processing (NLP), and computer vision, these companies are automating manual processes, improving risk management, and enhancing the customer experience.
Whether it's through AI-powered robo-advisors, chatbots, or other innovative solutions, these companies are leading the charge in the utilisation of AI in finance.


10. Salesforce
Salesforce is a customer relationship management (CRM) platform that provides businesses with cloud-based solutions for sales, service, marketing, and collaboration. It was founded in 1999 and has since become one of the leading CRM providers in the world.
Salesforce offers a secure platform for financial services organisations to connect and automate their front, middle, and back-office processes. The platform is designed to grow with the business and its customers, allowing for world-class onboarding experiences, real-time collaboration, and adaptable customer experiences.
Salesforce offers solutions for various types of financial services businesses, including: retail, commercial, and investment banks; credit unions; insurance providers; and wealth and asset management firms. The platform helps employees provide seamless multi-channel experiences, automating processes, improving customer satisfaction, and overall efficiency.
9. Microsoft Azure
Microsoft Azure is a cloud computing platform and infrastructure created by Microsoft for building, deploying, and managing applications and services through a global network of Microsoft-managed data centres.
According to Microsoft, the platform revolutionises the financial services industry by unlocking new opportunities that enhance banking, transform trading, and personalise insurance software systems. With Microsoft Azure, financial organisations can confidently elevate customer experiences with advanced infrastructure and security.
Azure's solutions allow for the personalisation of banking experiences through accurate insights and modernised software systems. It enables organisations to embrace a hybrid or cloud strategy to unlock global scale and enable continuous innovation. Additionally, Azure helps organisations comply with changing regulatory measures, while identifying suspicious behaviour and assessing risk through fraud detection.

8. Amazon Web Services
Amazon Web Services (AWS) is a collection of remote computing services (also called web services) that make up a cloud computing platform offered by Amazon.com. These services operate from 12 geographical regions across the world providing various services – including storage, computing power, and databases, as well as several AI and ML services.
Amazon AWS provides resilient, secure global cloud infrastructure and services for financial services organisations in the banking, payments, capital markets, and insurance sectors.
With a focus on continuous innovation and stringent security requirements, AWS offers a comprehensive range of services, industry expertise, and a vast partner network. These coalesce to help institutions modernise their infrastructure, respond to changing customer demands, and drive growth. Organisations looking to adopt cloud technology can benefit from the AWS Cloud Adoption Framework, a comprehensive guide to successful cloud adoption.

7. Brighterion
Brighterion is a model-based AI technology platform that provides a unique solution for critical decision-making in various industries, including finance and healthcare. With its Smart Agents' technology, Brighterion delivers personalisation, adaptability, and self-learning capabilities.
The platform's AI models analyse and observe data to produce virtual profiles, which are updated in real-time. This enables one-to-one holistic analysis, providing organisations with a 360° view of each entity's behaviour.
The Smart Agents' technology supports most data sources and formats, freeing up businesses from manual data enrichment tasks. With the ability to process over 100k decisions per second – and with 10-20x fewer false positives as well as 2-4x increased detection rates – Brighterion is a reliable solution for mitigating risk and predicting fraud.

6. Upstart
Upstart is an AI-powered lending platform that uses ML to analyse a wide range of data sources and provide borrowers with fast, fair, and convenient loans.
The company's mission is to provide more people with access to credit and help them build better financial futures.

5. SAP
SAP, a leading technology company, is utilising AI in its cloud-based Enterprise Resource Planning (ERP) system to revolutionise finance processes. The company offers SAP Cash Application, an AI-powered tool that helps automate the manual task of matching open receivables with incoming bank statement items, vendor invoices with outgoing, supplier-initiated payments, and extracting relevant information from payment advice documents. With this solution, businesses can lower their day's outstanding sales, reduce the total cost of ownership, and scale shared services.
SAP's AI technology also streamlines the financial close process by leveraging ML to identify and resolve discrepancies between intercompany transactions. The process of closing books becomes faster and more efficient, as large volumes of data can be processed with ease and pre-defined automated workflows can be used.
Furthermore, with the ability to apply custom rules to match documents and data sets, finance leaders can make the most of their financial close process without requiring any technical or coding knowledge.

4. Ocrolus
Ocrolus is a company that provides document processing software combining the power of machines and humans for accurate data verification.
The company's software uses a combination of computer vision, ML, and human validation to extract and structure data from various types of documents. This technology allows the software to produce results that are over 99% accurate, while eliminating manual work and speeding up the processing process.
In addition to improving accuracy, Ocrolus software also helps drive efficiencies by retrieving structured and indexed output for all document types, allowing for quick notification of any incorrectly submitted or missing information. The company's software also includes file tampering detection and algorithmic validation to identify suspicious activity and potential fraud, giving clients the confidence to lend with the best available technology for identifying bad actors.

3. DataRobot
DataRobot is a company that provides machine learning operations (MLOps) with Continuous AI technology. They aim to help organisations maintain the performance of their production models in the face of unpredictable events and real-world chaos. Their solution, Continuous AI, offers multiple MLOps strategies that enable organisations to refresh their models based on a schedule or in response to changes in either accuracy or data drift.
DataRobot also leverages its world-class AutoML capabilities to automatically create and recommend new challenger models for organisations. This combination of features helps organisations ensure they always have access to the most accurate and up-to-date predictions possible.
With DataRobot, organisations can be ready for unexpected events and ensure that their models always perform at their best.

2. Signified
Signifyd is a comprehensive Commerce Protection Platform designed to protect revenue and provide a smooth shopping experience for customers. By leveraging ML models and an extensive Commerce Network of identity and intent intelligence data from thousands of ecommerce retailers, Signifyd ensures that online purchases are secure and legitimate.
The Agent Console gives merchants full visibility into order processing and decisions, allowing them to augment decisions with manually sourced information. Insights Reporting provides in-depth insights into business performance, while Decision Center allows the risk team to build unique policies that block consumer abuse.
The Fraud Protection solution eliminates fraud and automates order decisions with unparalleled accuracy, while Abuse Prevention combats abuse at t5he same time as rewarding good customers.
Account Protection defends customer accounts from malicious fraudster schemes; Payment Optimization ensures a smooth path to purchase for customers by conducting transaction risk analysis and enriching orders with data from the Commerce Network.

1. High Radius
HighRadius is a leading provider of cloud-based autonomous software for the office of the CFO. Over 700 of the world's top companies – including 3M, Unilever, Anheuser-Busch InBev, Sanofi, Kellogg Company, Danone, and Hershey's – rely on HighRadius to transform their order-to-cash, treasury, and record-to-report processes.
Autonomous Software from HighRadius combines modern digital transformation capabilities, such as AI, robotic process automation (RPA), NLP, and connected workspaces into one comprehensive solution for the finance and accounting industry.
Unlike traditional finance software, HighRadius' solution offers the best of both worlds, eliminating the need to choose between an electronic system of record or building in-house capabilities with middleware platforms.