The Top 10 robotics companies transforming global industry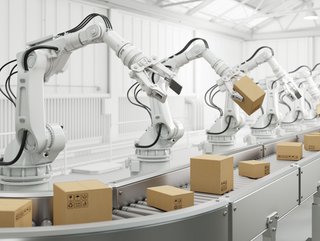 According to the International Federation of Robots, almost three million industrial robots are working in factories around the world
Capable of performing tasks that are repetitive or require a high degree of precision, industrial robots, enabled by AI, are transforming global industry
With the ever-increasing demand for efficiency and automation, the use of robots has become an essential part of modern production processes. Industrial robots are capable of performing tasks that are repetitive, dangerous, or require a high degree of precision, freeing up workers to focus on higher-level tasks.
The use of AI has enabled industrial robotic applications to process large amounts of images and data in volumes that were previously not possible. As these robots become more affordable they are increasing in use: today, according to the International Federation of Robots (IFR), almost three million industrial robots are working in factories around the world.
This week, AI Magazine explores 10 of the biggest companies in the world of industrial robotics.
10: Mitsubishi Electric
Since its establishment in 1921, Mitsubishi Electric has led the way in technical ingenuity and product innovation in Japan. The company's industrial robotics division focuses on manufacturing vertically-articulated robots that are designed for a variety of applications such as assembly, machine-tending, and tray-handling. These robots are capable of handling tasks like packing, palletising, tending, assembling, handling, and processing, offering effective solutions to industries.
9: Kawasaki
Kawasaki Heavy Industries was one of the first companies to manufacture and sell industrial robots in Japan, the world's predominant robot manufacturing country. As an all-around engineering company with technologies that serve areas covering land, sea, and air, we have always developed the most advanced robots.
Kawasaki is a leading supplier of industrial robots and robotic automation systems with a broad product portfolio, able to service a wide range of applications across diverse industries. Kawasaki Robotics has incorporated 50 years of experience as a robot industry leader into the development of the most technically advanced controllers and the highest quality robots.

8: Epson

Japanese multinational electronics company Epson, one of the world's largest manufacturers of computer printers and imaging-related equipment, also develops and manufactures its own line of industrial SCARA and six-axis robots.
For more than 35 years, the world's top manufacturers have relied on Epson Robots to reduce production costs, improve product quality, and increase their bottom line. Epson Robots is a leading supplier to a wide variety of manufacturing industries including Automotive, Medical, Electronics, Consumer Products, Industrial and many more, with customers ranging from large Fortune 100 companies to small manufacturing facilities.
7: Universal Robots
Universal Robots is an innovative robotics company of over 1,000 employees united behind a common vision – to create a world where people work with robots, not like robots.
Since the sale of its first collaborative robot in 2008 the company's technology, along with that of its partners, has been changing the way work is done across the world.
Part of Teradyne Inc, Universal Robots employs more than 1000 people in offices across North America, South America, Europe and Asia.
6: Omron
Omron Adept Technology, Inc. is a multinational corporation with headquarters in Pleasanton, California. The company focus on industrial automation and robotics, including software and vision guidance. Adept has offices throughout the United States as well as in Dortmund, Germany, Paris, France, and Singapore
With more than 20,000 robots deployed worldwide, the company's robotics division Omron Automation benefits from a unique combination of robots, software and integrated control architecture designed to address today's factory automation challenges.
5: Yaskawa Electric

Established in 1915 in Kitakyushu, Japan, Yaskawa Electric has transformed from a motor manufacturer to an automation company and now a mechatronics company.
Since announcing Japan's first all-electric industrial robot under the brand name MOTOMAN in 1977, Yaskawa has shipped nearly 500,000 units all over the world.
Besides automobiles, Yaskawa's industrial robots are now used in a wide range of industries, including electric and electronic equipment, semiconductor manufacturing, biomedical, food, medical products and logistics.
4: FANUC
From its inception in 1956, when company founder Dr Seiuemon Inaba first pioneered the concept of numerical control, FANUC has been at the forefront of a worldwide manufacturing revolution.
With more than 100 models, FANUC offers the widest range of industrial robots in the world. Covering a diverse range of applications and industries, FANUC robots are easy to operate and provide complete flexibility thanks to a range of application-specific options, straightforward integration, payloads up to 2.3 tonnes and maximum reaches up to 4.7m.
3: KUKA
One of the world's leading suppliers of intelligent robotics, plant and systems engineering, KUKA is a German manufacturer of industrial robots and systems for factory automation. It has been predominantly owned by the Chinese company Midea Group since 2016
As a leading global supplier of intelligent automation solutions, KUKA offers its customers everything from a single source: from robots and cells to fully automated systems and their networking in markets such as automotive, electronics, general industry, consumer goods, e-commerce/retail and healthcare. The KUKA Group is headquartered in Augsburg, Germany and has sales of around EUR 3.2 billion and around 14,000 employees.
2: Denso
DENSO is one of the world's largest automotive suppliers of technology and components found in almost all vehicles around the globe including Toyota, Honda, FCA, General Motors, Ford, Volvo and Mercedes-Benz. Its robotics division, DENSO Robotics, is a market leader in the small industrial robots segment with over 120,000 robots installed worldwide.
In 1967, Denso started developing robots to optimise its own manufacturing processes in the automotive industry. This allowed the company to constantly improve and advance both hardware and software. Today, as the established leader in the small assembly industrial robotics segment, DENSO Robotics continues to set the benchmark in reliability, flexibility and functionality.
1: ABB
ABB Ltd. is a Swedish-Swiss multinational corporation headquartered in Zürich, Switzerland. The company was formed in 1988 when Sweden's Allmänna Svenska Elektriska Aktiebolaget and Switzerland's Brown, Boveri & Cie merged to create ASEA Brown Boveri, later simplified to the initials ABB.
ABB's Robotics Division is a pioneer in robotics and digital services, providing innovative solutions for a diverse range of industries, from automotive to electronics to logistics. As one of the world's leading robotics suppliers, ABB has shipped more than 500,000 robot solutions globally and helps customers of all sizes increase productivity, flexibility and simplicity and improve output quality.
ABB Robotics is part of the ABB Robotics & Discrete Automation business area, which, together with the Machine Automation Division, employs more than 11,000 people at over 100 locations in more than 53 countries.