Samsung unveils new HBM-PIM AI accelerator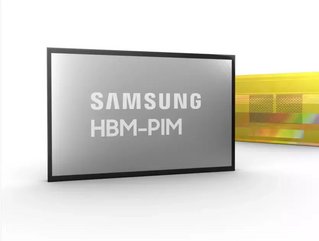 Samsung Electronics has revealed its latest advancements with processing-in-memory (PIM) technology at Hot Chips 33, a leading semiconductor conference
Samsung, the South Korean tech giant, has said it aims to expand its memory products powered by its artificial intelligence (AI) engine as the company is pushing to increase its technology leadership in the semiconductor market.
The company unveiled and introduced how the new products are used at Hot Chips, an annual semiconductor industry conference for promoting new technology. It said it has developed high bandwidth memory (HBM) integrated with AI processing power, called HBM-PIM, which will be used for servers in data centres.
In February, Samsung introduced the industry's first HBM-PIM (Aquabolt-XL), which incorporates the AI processing function into Samsung's HBM2 Aquabolt, to enhance high-speed data processing in supercomputers and AI applications. The HBM-PIM has since been tested in the Xilinx Virtex Ultrascale+ (Alveo) AI accelerator, where it delivered an almost 2.5X system performance gain as well as more than a 60% cut in energy consumption.
"HBM-PIM is the industry's first AI-tailored memory solution being tested in customer AI-accelerator systems, demonstrating tremendous commercial potential," said Nam Sung Kim, senior vice president of DRAM Product & Technology at Samsung Electronics. "Through standardisation of the technology, applications will become numerous, expanding into HBM3 for next-generation supercomputers and AI applications, and even into mobile memory for on-device AI as well as for memory modules used in data centers."
Using AI to design chips 
Samsung is using AI that automates the processes of designing state-of-the-art computer chips. The Korean giant was one of the first chip makers to create chips using AI. 
Samsung is using AI capabilities in the new software from Synopsys, a leading chip design software company used by many companies. "Shown here is the first of a real commercial processor design using AI," said Aart de Geus, Chairman and Co-CEO of Synopsys.
Other companies, including Google and Nvidia, talked about designing chips using AI. Synopsys has a new tool that can help companies design and create chips with AI. The DSO.ai software can optimise the chip designs, which will accelerate semiconductor development to unlock novel chip designs, according to industry watchers.
Samsung has also announced that it plans to invest $206bn over the next three years in AI, semiconductors, biopharmaceuticals, and robotics for post-pandemic growth.