Microsoft: building robust AI strategies in manufacturing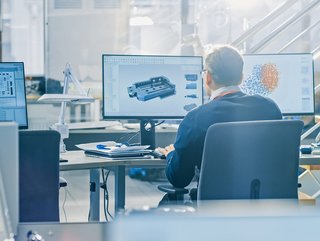 Manufacturing leaders have a duty to understand AI strategies, says a Microsoft Thought Leader, and data could be the key to unlocking AI opportunities
In addition to handling a tsunami of tech brought on by The Fourth Industrial Revolution, CTOs, CIOs and COOs with manufacturing companies have another common task in 2022.
They realise they have to get boardrooms and leaders to truly understand new opportunities like artificial intelligence (AI), rather than rely on executive summaries and gut instinct.
Manufacturers and supply chains are already looking for technological solutions to keep them agile and competitive, as we reported earlier this year.
The global AI in manufacturing market size account for US$2.9mn in 2021 and is estimated to reach US$78.4mn by 2030, with desire for enhanced productivity and automation driving the need for more AI tech in the sector.
Microsoft is taking a lead in this shift towards automation in the sector. Digital Transformation Enthusiast Jeff Winter joined the company in 2021 as an Industry Executive to help manufacturers digitally transform at scale.
In conversations and consulting around the world, he's developed a sixth sense for picking up on senior stakeholders who don't truly grasp the realities of a brave new world of AI.
"Whenever I hear someone say 'Oh, let's use AI to solve that problem,' it's immediately a red flag for me," Winter explained during a recent Tech and AI Live panel discussion hosted by Technology Magazine. "I don't think they actually really understand what AI is. That's like saying 'Let's use the internet,' or 'Let's use electricity to solve this problem.' It sounds silly, doesn't it?"
"Everyone – especially at the decision-making level – needs to know generally how AI works, what it can do and what it can't, and that's why understanding these basics is so important."

Microsoft strategies show the way for manufacturing with AI
With the rapid uptake of this technology throughout the industry, manufacturers need to develop a comprehensive strategy and understanding of how it works to implement it effectively.
Winter shared some C-suite advice and tactics in an episode of The Technology Magazine Show. "I like to say that if you want to be effective with AI, you really need to change the way that you view it, and to do this the entire company - or at least those who make decisions - need to have a basic understanding of what AI is and how it works and how it can benefit their role and the company," says Winter.
"And when doing this, you'll find ways to integrate AI into way more decisions than you're probably doing right now because you have to remember AI is essentially a decision-making tool; it can either automate decisions for you or augment your decision-making process."
This is particularly significant for the manufacturing industry as according to Deloitte, manufacturing is estimated to generate about 1,812 petabytes (PB) of data every year, more than communications, finance, retail and several other industries.
The availability of data means manufacturers can use smart technology to discover data patterns and address problems that could not previously be anticipated.
Winter: every company needs an AI strategy
But even once the boardroom has applied such critical thinking to their strategies, digital transformation without AI will only take a company so far, says Winter.
"My favourite definition so far is: 'The integration of digital technology into all areas of the business that results in fundamental or transformational changes in how a business operates and the value that it brings to customers,'" says Winter.
"If we use that definition then I would argue AI isn't necessary for digital transformation to occur. You can completely transform digitally without using [AI]. But that being said I think you would massively limit the capability and power of your transformation if you didn't use it."
More expert advice will be shared by some of the world's most-inspirational sustainability leaders at Sustainability Live London, organised by BizClik Media Group, in association with Sustainability Magazine.
This interactive two-day hybrid conference programme will see more than 70 leaders from the global sustainability community present valuable solutions for, and debate topical issues on, the most pressing aspects of sustainability. Tickets are available here.