Ignite 2021: Microsoft's week of AI announcements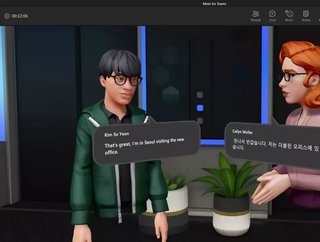 This week Microsoft hosted its digital Ignite 2021 event, during the three-day event the company announced new, AI-powered innovations
Microsoft's Ignite 2021 featured four curated themes, each exploring transformations shaping the new flexible business environment.
As a seminal moment for the company, the event welcomed more than 100,000 global attendees across a variety of industries to experience Microsoft's latest and greatest technologies.
One theme, 'Innovate anywhere from multicloud to edge' looked into next-generation apps that run securely anywhere, built with limitless data capabilities and harnessing the power of artificial intelligence (AI).
At Ignite 2021, Microsoft announced its comprehensive set of resources designed to power metaverses. Facilitated through Microsoft Cloud, its IoT capabilities enable customers to create "digital twins" of physical objects in the cloud.
Customers achieve this by utilising Microsoft Mesh to build a shared sense of presence on devices. Additionally, they can use AI-powered resources to create natural interactions through speech and vision machine learning models. 
To continue the evolution of the metaverse, Microsoft has announced its Dynamics 365 Connected Spaces. Currently in preview, the product will provide a new perspective on the way people move and interact with nearly any space.#
Additionally, Mesh for Microsoft Teams will bridge communications methods. This technology allows everyone in a meeting to be present without being physically in the meeting room. They can create personalised avatars and immersive spaces that can be accessed from any device. It also doesn't require any special equipment.
OpenAI enhancing Microsoft Azure's capabilities
Microsoft also announced its new Azure OpenAI Service that combines access to OpenAI's powerful GPT-3 language models with Azure's enterprise capabilities.
With GPT-3, users around the world have discovered countless things that these AI models can do with their powerful and comprehensive understanding of language.
With the new Azure OpenAI Service, customers will gain access to OpenAI's API through the Azure platform. This will initially be available by invite only.
Along with security, reliability, compliance, data privacy and other enterprise-grade capabilities that are built into Microsoft Azure, customers will also be able to access OpenAI's powerful GPT-3 models.
"We are just in the beginning stages of figuring out what the power and potential of GPT-3 is, which is what makes it so interesting," said Eric Boyd, Microsoft corporate vice president for Azure AI. 
"Now we are taking what OpenAI has released and making it available with all the enterprise promises that businesses need to move into production," he added.
Adding to this offering, Microsoft will also offer Azure OpenAI Service customers new tools to help ensure outputs that the model returns are appropriate for their businesses. It will also monitor how people are employing the new technology to ensure it is being used for its intended purposes.
Image credit - Microsoft