How AI supports sustainability efforts on earth and in space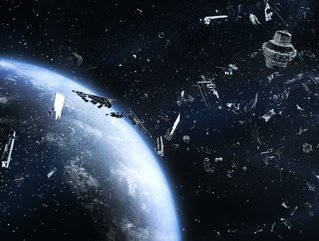 Following the Sustainability LIVE event, we take a look at the role of AI in space sustainability and how it can be applied to support the SDGs
One of the final sessions of BizClik Media Group and Sustainability Magazine's two-day hybrid event, Sustainability LIVE, shared insight into sustainability in outer space.
Andrea Vena, Chief Climate and Sustainability Officer at European Space Agency, shared some great insights and graphics that highlight the scale of space waste, emphasizing the importance of removing hundreds of billions of objects from Earth's orbit.
An immense task for any one organisation or nation to consider, cleaning up space will also require a significant amount of investment, innovation, and time to achieve.
Orbital congestion created by space debris is one of the biggest global challenges facing the space sector. There are currently an estimated 330 million pieces of space debris, including 36,500 objects bigger than 10cm, such as old satellites, spent rocket bodies and even tools dropped by astronauts orbiting Earth.
Vena stressed to achieve sustainability in space: "It is very important that we find common ground for international cooperation."
Recently, the UK Space Agency announced it is providing £1.7 million for new projects to support sustainable space operations.
The 13 new projects will help track and remove dangerous debris in space. They include an artificial intelligence (AI) based tool that can take autonomous action to avoid a collision and another which will see multiple small spacecraft fired at debris before taking it into the atmosphere to dispose of it.
On top of this funding, the UK's National Space Strategy set out a bold vision for the sector and recognises the need for the UK to lead in making space safe and sustainable.
This new funding supports the development of underlying technology or data processing capabilities for space surveillance and tracking to support the removal of orbital debris.  
Tackling sustainability problems on earth, from outer space
Not only can AI enable space to be more sustainable in itself, but it can also be applied in space to support sustainability initiatives closer to home.
With satellites in space collecting vast amounts of data, AI could be the key to unlocking the power of this data to support sustainable development in space.
Space-based services and technologies have an important role in supporting the achievement of all 17 of the United Nations Sustainable Development Goals (SDG). Earth Observation satellites can provide data on sea-level rise, air quality and land use, vital for addressing the problems incorporated in the SDGs on climate action, life on land and below water, hunger, poverty and sanitation.
Patrick Helber from the German Research Centre for Artificial Intelligence talked about how the centre trained an AI system with data from the Copernicus Sentinel-2 mission to help address global challenges such as those highlighted by the SDGs.
About this research, he said: "Take for example the SDG 11, Sustainable Cities and Communities. It is expected that 95% of urban expansion over the next decades will take place in the developing world. There will be obvious issues relating to public health, clean water and so on. As a first step towards helping those people, we need to be able to map these growing urban environments. It is clear that you cannot manually analyse hundreds of terabytes of data every day, we need an automated approach, which is where artificial intelligence comes in. Through our research, we can, for example, run over a Copernicus Sentinel-2 image with trained artificial intelligence and the type of land is automatically classified. This, in turn, allows changes in land-use, such as urban growth to be monitored automatically."
To catch Vena's speech or any of the other great speakers at the Sustainability LIVE event, download the Brella App. All sessions will be available on-demand via the platform.