How AI and RPA Are Changing the Recruitment Process
By Michal Gershon-Sobol, VP of HR at Kryon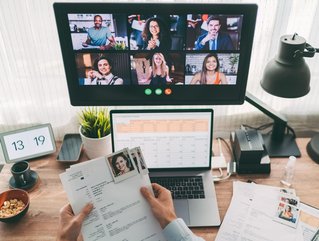 Michal Gershon-Sobol, VP of HR at Kryon discusses the potential of AI and robotic process automation when implemented into the recruitment process
The recruitment process is crucial to a company's success. People are the lifeblood of any organisation, so hiring the right people is critical. The possibilities offered by technologies such as Robotic Process Automation (RPA) can significantly change the future of recruitment by leveraging the power of AI.
A Pearson survey of 2,000 UK business leaders shows that 63% of respondents were worried about finding recruits with the right skills for their vacancies. The Open University Business Barometer, which monitors the skills landscape in the UK, reveals that three in five senior (61%) business leaders surveyed report that the skills shortage has worsened over the past year. Businesses are suffering massive losses due to the skills gap, and an inability to find the right candidates. This is costing an extra £6.33 billion a year in recruitment fees, inflated salaries, temporary staff and training for workers hired at a lower level than intended. Due to skill shortages as a result of the pandemic, and a 50% increase in demand for jobs in tech this year alone, fears are mounting around finding the right talent. HR teams must be efficient and precise in selecting new talent, or risk losing them to a competitor. Processes used to fast-track talent through recruitment need to be streamlined and a greater effort must be placed on using creativity to attract the best applicants.
The pressure is officially on for HR teams to find a solution to address these concerns.
Recruitment is a costly process
Given the situation companies find themselves in, it is essential for recruiters to both secure top talent and provide an optimal experience while doing so.
The challenge however, is that many of the tasks required for recruitment are repetitive and labour-intensive. A single new hire can take up to three days of HR time due to the significant data processing required for tasks like screening CVs.
Processes for things like background checks can also become a recruitment bottleneck. These lengthy processes leave candidates open to being poached by competitors. An additional hindrance is the increased risk of error and compliance missteps that can result from manual data processing - a long-winded process.
When faced with time pressures, recruiters can make hasty decisions that lead to bad hires. Candidate screening is a critical but time consuming requirement, when rushed can lead to mismatched roles and talent. These kinds of tasks can overload HR staff and create bottlenecks in workflows. Add to that, time spent on low-value admin tasks and you have a business that is working very hard to secure the best talent with all the associated costs but without the results.
The role of automation in changing the future of recruitment
Within the HR function, AI-driven RPA platforms can be implemented to own those manual and repetitive tasks in the recruitment process. This transforms the way recruiters spend their time on a day-to-day basis.
For example, In the UK, there are 9.8 million job seekers daily. With 250 CV's received per role, and an average of 6-8 seconds spent by HR just eye tracking each CV before digging down you can see the time required for these activities.
AI-powered RPA can be used to run background checks and candidate screenings to reduce the time spent on these tasks. Additionally, recruiters can create predefined rules by which RPA creates a shortlist of best candidates for interviews. These tools are particularly useful for recruiters selecting CVs which demonstrate hard skills needed for a role. In this way, recruiters can save time on screening hundreds of applications, and can make sure the shortlisted applications are the best fit for the company.
Another benefit is that RPA helps to reduce human errors. Offer letters have to comply with local and company regulations, while also being attractive to desired candidates. This can result in a time-consuming process. RPA is able to automate offer letters that are tailored and accurate.
With AI-powered RPA, recruiters are able to spend more time making strategic decisions to improve the recruitment function and match market-wide developments. As robots replace low-value tasks, employees become more engaged in the process and form stronger connections with candidates to better understand whether they are truly aligned on values and objectives.
Overall, automation in the recruitment process will drive down the costs of new hires, but also free up HR time to ensure the best candidates become successful employees.
The future of recruitment will see AI and automation being leveraged by RPA to enhance the roles of recruiters. Soft skills such as creativity and communication will become even more important to the HR function, as recruiters have a greater focus on implementing strategies to secure top talent.