Fosun Pharma and Insilico announce AI-driven partnership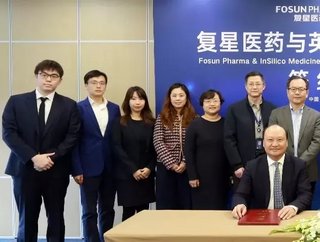 This strategic AI-driven partnership between Fosun Pharma and Insilico Medicine will look into drug discovery utilising artificial intelligence technology
Shanghai Fosun Pharmaceutical Group (Fosun Pharma) is a leading innovation-driven international healthcare group in China. The group has announced a collaboration agreement with Insilico Medicine (Insilico), an end-to-end artificial intelligence (AI) driven drug discovery and development company.
This collaboration looks to advance the discovery and development of drugs through the use of AI and aims to benefit multiple targets.
"We are pleased to enter into a strategic collaboration with Insilico. Fosun Pharma is committed to promoting innovative R&D, and is oriented towards fulfilling unmet clinical needs and improving products' accessibility," said Yifang Wu, Chairman and CEO of Fosun Pharma.
He continued: "We look forward to working with Insilico to leverage the technological and clinical development strengths of both companies, jointly improving the efficiency of innovative drug R&D, and benefiting more patients worldwide." 
Fosun Pharma and Insilico: beginning a new era of AI drug discovery
Focusing on four biological targets, the collaboration includes AI-driven drug discovery research and development. It will also look at the co-development of Insilico's QPCTL programme.
Adding to this, Insilico will receive a total upfront payment of $13mn for the R&D collaboration projects and the co-development of its QPCTL programme. It could also receive potential milestone-based payments and share commercialisation profits from its programme.
Fosun Pharma plans to make an equity investment in Insilico.
"In partnering with Fosun Pharma, a leading pharmaceutical company, we begin a new era of AI-powered end-to-end drug discovery and development as human-machine collaboration becoming the new normal in precision drug discovery and development," said Alex Zhavoronkov, PhD, Founder and CEO of Insilico Medicine.
Continuing, he said: "We previously demonstrated that AI can be used to discover novel targets and generate novel molecules that can be tested in humans in record time. Now, we are partnering with one of the leading scientific teams in the pharmaceutical industry to take this technology to the next level for the benefit of patients worldwide."
Advancing drug development with AI
Aiming to combine Insilico's end-to-end drug discovery platform and Fosun Pharma's clinical development and commercial expertise, the collaboration will look to discover and develop a portfolio of novel therapeutics.
According to the agreement, Insilico will take responsibility for delivering a preclinical candidate for the QPCTL program. The company will also be responsible for advancing it to the investigational new drug (IND) stage.
Following this, Fosun Pharma will conduct human clinical studies and co-develop the candidate globally. Its R&D team will nominate four therapeutic targets to be assessed by Insilico's AI platform and R&D team, who will be responsible for advancing drug candidates to the IND stage. 
Also under the collaboration, Fosun Pharma will secure access to Insilico's PandaOmics and Chemistry42 platforms in order to advance Fosun Pharma's internal AI-powered discovery and development efforts.