Blue Prism and Abu Dhabi Dpt of Health on AI and healthcare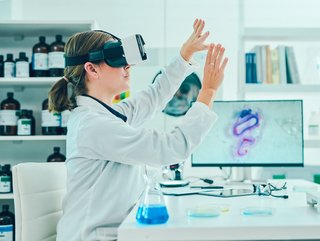 AI technologies in healthcare are becoming increasingly popular. Blue Prism and Abu Dhabi Dpt of Health explore the benefits it will bring
Despite catalysing the uptake of digital technologies within hospitals, many healthcare organisations had already been utilising technology to transform operations prior to the coronavirus pandemic.
Already having a profound impact on many healthcare providers across the world, artificial intelligence (AI) has the ability to automate tasks, improve efficiencies and roboticise processes.
Across the globe, doctors, hospitals, and researchers use automation to lower costs and improve the quality of care. It can also act as an aid in analysing patient and operations data.
Commenting on its significance to the industry, Dr Hamed Al Hashemi, Digital Health Program Lead at Abu Dhabi's Department of Health, says: "Automation and AI have a profound impact on healthcare processes and can serve to reduce medical errors and improve diagnostic capabilities. We see great potential for impact across the board, including areas such as scheduling, clinical assessment, diagnosis, prescriptions, follow-up care, and billing."
Built on a complex ecosystem of legacy infrastructures, systems, and technologies, healthcare organisations rely on data extrapolation to gain insights into things such as patient data. To support this, many organisations rely on highly trained staff and manage the data as it is generated, which can be both time-consuming and costly.
Adding to this, Patrick Shephard, Head of Healthcare at Blue Prism, explains: "The solution to the challenges that healthcare organisations face across the world is to do more for patients with the same resources or less. Intelligent automation enables healthcare organisations to bring in digital robots — software designed to model human roles — to execute rule-based tasks such as appointment bookings and referrals."
Responding to the changes in healthcare following the pandemic
With these benefits, AI in healthcare is projected to reach US$194.4bn by 2030, having grown from US$8.23bn in 2020. COVID-19 is a huge driver for this growth, as the pandemic highlighted the crucial roles AI plays in healthcare with its ability to detect and diagnose the virus.
AI in healthcare is not a new notion but, now that the technology has proven its capabilities, many companies are looking at ways to implement it to transform patient care and improve the day-to-day lives of healthcare professionals.
"While healthcare organisations say that their adoption of automation has grown, it was the COVID-19 pandemic that propelled them to achieve more in months than they had in the previous few years," says Shepard.
"Necessity truly was the mother of invention in the crisis, with hospitals reorganising resources and building layouts, moving consultations online and, in some cases, adapting non-medical facilities to deliver care to those who needed it. The pandemic has encouraged leaders to accelerate their use of automation, with a majority using the solution to replace paper documents and innovate patient pathways," he continues.
At the forefront of Abu Dhabi's response to the pandemic, Hashemi explained that this technology was vital to facilitate government-coordinated containment processes such as testing and contact tracing.
Quick to adapt to the challenges posed by the pandemic, Abu Dhabi was able "to do this by doubling down on research and development, investing in healthcare technology and digital platforms, engaging in global partnerships, strengthening human capital in the sector and advancing healthcare services through a patient-centred approach," says Hashemi.
Utilising RPA and wearable technology in healthcare
Robotic process automation (RPA) is proving an invaluable tool for the healthcare industry as it removes the need for people to complete mundane,repetitive tasks, allowing them to focus on those that are more critical.
By automating these tasks, RPA can help build and retain an engaged workforce by filling their days with enriching, high-value tasks. Shepard explains that "due to inefficient and outdated systems and operating models, most healthcare staff are having to spend significant amounts of time dealing with mundane and repetitive process-driven work."
"Enhanced with the latest advancements in AI, intelligent automation can be extremely effective in boosting collaboration across multiple healthcare stakeholders and ICSs. With patients demanding more joined-up services, staff and clinicians requiring better visibility into patient pathways and histories, and the acute need for cost efficiency, more collaborative approaches using intelligent automation could hold the key to unlocking greater value for all parties involved in healthcare service provision," he adds.
Hashemi, while championing the benefits of RPA in healthcare, stresses the importance of striking the right balance between humans and machines. He says: "Machines will not replace professionals but instead, diagnoses will become increasingly automated and driven by massive amounts of accessible patient data. These big data sets will be captured, stored, analysed and interpreted in real-time. In the process, healthcare will shift and become far less reactive."
Wearable technology is also proving its worth in healthcare. With the ability to provide data and insights into an individual's medical condition from wherever the patient may be, wearable technology can reveal the physical and chemical properties of the body to evaluate wellness.
These small electronic devices allow healthcare professionals to be more proactive with diagnosis and empower the individual to continuously measure their health and wellbeing without the need for visiting a clinical centre, and immediately take action when needed.
"The proliferation of wearables and other medical devices combined with AI is also being applied to oversee early-stage heart disease, enabling doctors and other caregivers to monitor and detect potentially life-threatening episodes at earlier, more treatable stages," says Hashemi.
Understanding AI to utilise it effectively
The implementation of this technology has the potential to become tricky, particularly as in healthcare, professionals are dealing with highly sensitive data and information. As with any new technology, there are still some barriers that organisations and individuals need to overcome.
Hashemi notes the importance of regulation and understanding: "First and foremost, there needs to be an education process on all levels – trainers, healthcare professionals and of course end-users need to understand not only how to best utilise these technologies, but also why a given technology is being used. Here we must question – does the technology really support or elevate a healthcare process, or is it purely offering "bells and whistles" that are otherwise unhelpful?"
"Cultural adoption can be a key hurdle within an organisation's automation journey. Employees can be weary of automation at first. Naturally, major change programs raise concerns that any organisational change brings with it, including fear, uncertainty, and doubt," says Shepard.
Commenting on the technological side of the implementation, he adds: "A frequent mistake is for automation products to fall under the IT umbrella and its acquisition to be monitored through the lens of traditional IT procurement. Because automation is first and foremost a business tool, automation should be recognised as digital labour that is managed by the business — not a piece of software implemented by IT."
Concluding, Shepard stresses the importance of correctly utilising AI for the benefit of healthcare professionals and patients: "Digital transformation must be the ultimate ambition for any healthcare provider. To ensure this, they must use intelligent automation as a strategic lever to transform their entire operational and resourcing models and prepare their organisations for the future."