Ambarella Expands Security AI Vision SoC Portfolio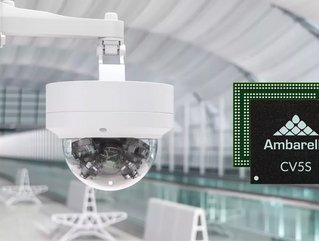 Ambarella has added two new system-on-a-chip products to its AI vision SoC portfolio to help with AIoT camera applications
Ambarella, an AI vision silicon company, has announced the expansion of its AI vision system-on-a-chip (SoC) portfolio.
Ambarella's newest SoCs are the CV5S, which is designed for multiple-sensor devices providing 360-degree and long-range views, and the CV52S for single-sensor security cameras that require higher-resolution video and higher AI performance to recognise license plate numbers and faces at long distances. 
The CV5S can process four different image channels from a multi-image camera at 4K resolution and 30 frames per second, while also performing AI processing on each image. The CV52S supports 4K resolution at 60 frames per second.
"Security system designers desire higher resolutions, increasing channel counts, and ever faster and more ubiquitous AI capabilities," explained John Lorenz, senior technology & market analyst, computing at Yole Développement (Yole). "Ambarella's newest AI vision SoCs for security, the CV5S and CV52S, are competitive solutions for meeting the growing demands of the security IC sector, which we forecast to exceed $4 billion by 2025, with two-thirds of that being chips with AI capabilities."
"The global security industry is rapidly moving to higher 4K resolutions while increasing AI algorithm capabilities, to achieve better recognition of people and objects, along with multiple imagers for a wider field of view and longer range," said Jerome Gigot, senior director of marketing, Ambarella. "Our new CV5S and CV52S security AI vision SoC families respectively support 4K multi-imager or high-frame-rate 4K single-imager designs with high performance edge AI processing, allowing the development of cameras that do not need to compromise between image resolution and AI processing accuracy."
Who is Ambarella? 
Ambarella is an AI silicon company that was founded in 2004. Their products are used in a wide variety of human and computer vision applications, including video security, ADAS, electronic mirror, drive recorder, driver/cabin monitoring, autonomous driving, and robotics applications. Their low-power SoCs offer high-resolution video compression, advanced image processing, and powerful deep neural network processing to enable intelligent cameras to extract valuable data from high-resolution video streams.
The company, which enabled the first full-HD solid-state pocket camcorders, bringing high-definition video to the masses, has offices in the United States, Taiwan, China, Japan, Korea, Hong Kong, and the European Union.
(Image: Business Wire)