Hitachi Vantara and Rainforest Connection expand partnership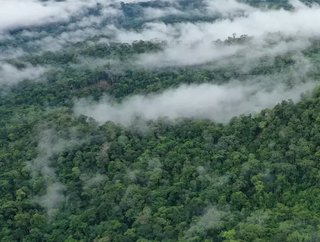 This partnership between Hitachi Vantara and Rainforest Connection, which will be featured at COP26, will utilise data and AI to protect rainforests
Hitachi Vantara, the digital infrastructure, data management and analytics company has expanded its partnership with Rainforest Connection with the aim to help accelerate data-driven solutions to protect rainforests and their sensitive ecologies. 
With Rainforest Connection, the digital solutions subsidiary of Hitachi will continue to develop and scale predictive analytics to stop illegal logging. The pair will also look into new use cases to protect biodiversity.
"The use of data and technology are paramount for businesses and governments to meet sustainability goals," said Gajen Kandiah, CEO of Hitachi Vantara. 
"Together, Hitachi Vantara and Rainforest Connection are demonstrating how important a robust ecosystem of partners, along with AI and analytics, are to solve sustainability challenges at a community level and scale to create global change," he added.
Hitachi Vantara utilising data to protect rainforests
To protect the rainforests, Hitachi Vantara utilises years of eco-acoustic data collected by Rainforest Connection's 'Guardian' system.
With this data, Hitachi Vantara has developed a baseline of forest sounds and built predictive algorithms and artificial intelligence (AI) to detect anomalies.
These anomalies include voices or disturbed birds flying up, sounds that often precede logging.
"When a global giant like Hitachi Vantara opens its newest, cutting-edge technology to startups like Rainforest Connection that are working at the forefront of social impact and conservation, we can collectively bring about unimaginable, world-changing achievements," said Topher White, CEO of Rainforest Connection.
Through this partnership, with leadership from local non-governmental organisations like KKI Warsi, local villages can be empowered with predictive, data-driven warnings to help stop illegal logging before it starts.
Along with KKI Warsi, Rainforest Connection has deployed 27 Guardian devices in 9 Western Sumatran villages.
"Our communities depend on the forests for water, rice farming and protection from landslides. These small villages have the knowledge to protect the forest, but without the technology, they did not have enough resources," said Rudi Syaf, Executive Director at KKI Warsi. 
"We want to show that the local communities can partner with the government to manage the forest best and the support from Rainforest Connection and Hitachi Vantara are required to help us do that," he continued.
Rainforest Connection and Hitachi Vantara: building regional neural networks that support biodiversity
Not only does the scalable cloud and data architecture developed by Hitachi Vantara provide warnings to local villages before illegal logging starts, but it is also helping Rainforest Connection build regional neural networks that support biodiversity.
As it is cataloguing acoustic data from hundreds of species across regions, Rainforest Connection is building a database, and applying AI and Machine Learning to more efficiently analyse and extract actionable insights from these soundscapes.
This database can then better inform how best to protect and preserve vulnerable species.
Currently, Rainforest Connection's Guardian system is being used in projects in:
Belize 

Costa Rica 

Suriname

Ecuador

Peru

Brazil

Bolivia

Romania

South Africa

Cameroon

Philippines

Indonesia

Malaysia

Italy

Austria

United Kingdom

Chile

Greece

Ireland
Showcasing the pair's AI-enabled solution at COP26
At the United Nations Climate Change Conference (COP 26), the two companies will discuss the fundamental role of data-driven solutions for addressing climate change. During the keynote speech, the two companies will share how this partnership is helping protect the rainforests in Sumatra.
The keynote speech is taking place on 9th November and can be watched live via this link at 15:00 GMT.
As the world's most effective carbon sink, rainforests are a vital defence against climate change. It is imperative that the rainforests are protected, particularly as the world lost 4.2 million hectares of tropical rainforests in 2020.
During the COP26 conference, rainforest protection will be a key point of discussion with nations looking to meet the 2030 targets set by the UN.
Hitachi Vantara is also a principal sponsor for the event in Glasgow.