Global AI robots market to reach $21.4bn by 2026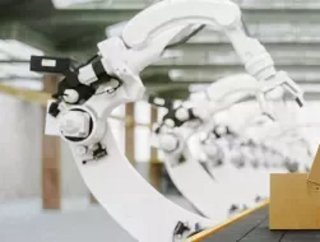 New tools for analysis of big data also expected to contribute to AI robot market growth
According to the Global AI Robots Report from ReportLinker, strong growth is anticipated for the market for AI in robotics over the coming years as industries recognise the powerful combination of the two technologies which offer several benefits in the automation of processes and tasks.
The technology provides robots with the learning ability critical for applications so companies can considerably increase productivity, save time and make the workplace safer for humans. Tasks can also be performed with extreme precision and at great speeds. When integrated with AI, such robots learn processes and then perform tasks on their own, without human intervention. This would be one of the major growth drivers for AI in robotics going forward.
Market growth predictions
Amid the COVID-19 crisis, the global market for Artificial Intelligence (AI) robots was estimated at US$5.2 billion in 2020 and projected to reach a revised size of US$21.4 billion by 2026 - growing at a CAGR of 25.4% over the analysis period. Software, one of the segments analyzed in the report, is projected to grow at a 24.6% CAGR to reach US$13.7 billion by the end of the analysis period. Additionally, growth in the hardware segment is revised to 26.4% CAGR for the next 7-year period. This segment currently accounts for a 43.2% share of the global Artificial Intelligence (AI) robots market.
Global area growth figures
The US market is estimated at US$2.2 billion this year and the country currently accounts for a 31.36% share in the global market. China, the world's second largest economy, is forecast to reach an estimated market size of US$2.6 billion by 2026, trailing a CAGR of 28.6% through the analysis period. Among other noteworthy geographical markets are Japan and Canada, each forecast to grow at 21.6% and 24.3% respectively over the analysis period. In Europe, Germany is forecast to grow at approximately 23.9% CAGR, while the rest of the European market (as defined in the study) will reach US$3.2 billion by the close of the analysis period published in the report.
Source:
https://www.reportlinker.com/p06030753/Global-Artificial-Intelligence-AI-Robots-Industry.html?utm_source=GNW