Fetch.ai Partners with Decentralised Ledger Provider IOTA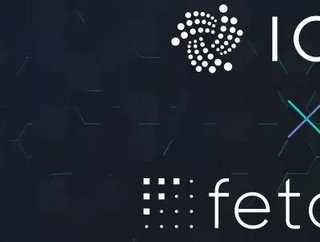 Cambridge-based AI startup, Fetch.ai, has announced its new partnership with IOTA's 'Internet of Things'-focused open-source distributed ledger technology
Fetch.ai, a Cambridge-based artificial intelligence startup, has been attracting a lot of attention from investors in recent times, with their ─ potentially ─ groundbreaking machine learning network of autonomous "agents" capable of performing real-world tasks. A truly industry-leading feat, should the company's ambitions come to full fruition. 
In a new development, the company has formally announced a brand new partnership with IOTA, an open-source distributed ledger focused solely on the Internet of Things (IoT) and potentially Industrial Internet of Things (IIoT) further down the line. 
What is IOTA?
IOTA, which you might already know of, was arguably one of the most popular hysteria-inducing projects back in 2017's tidal wave of blockchain and cryptocurrency developments. The platform serves as an open-source distributed ledger and cryptocurrency that was specifically designed for the Internet of Things. The system uses a directed acyclic graph to store transactions on its ledger, which boasts much higher levels of scalability than its blockchain-based counterparts.
The majority of the projects back in 2017 promised to fly high but, in reality, didn't jump quite high enough to soar over the first hurdle of the race. IOTA, however, set its expectations just right and prepared well for the challenge to come. Like any leading competitor, it has since gone from strength to strength with the creation of its unique 'tangle' web and the only infinitely scalable, quantum-proof payment and secure data transfer platform on the planet. 
The company's revolutionary technology has scored it several partnerships with globally-renowned companies, including Dell Technologies and Jaguar Land Rover.
Mutual Friends in High Places
While many wouldn't necessarily have expected Fetch.ai and IOTA to enter into a collaborative project, both companies do have a mutual partnership with Bosch, the leading German multinational engineering and technology company ─ a true stalwart in the space. 
IOTA was the first of the two to establish a connection with Bosch when the giant corporation announced that it would be integrating Bosch XDK  ─ "the Swiss Army Knife for IoT" ─ with IOTA's Data Marketplace. And then, back in February, Fetch.ai announced that it was entering into a partnership with Bosch on a joint venture called the "Economy of Things" (EoT), which would see the two companies work together to launch a fully functional blockchain network and transform existing digital ecosystems using distributed ledger technologies.  
I mention these partnerships because, as Ryan Daws, Editor at TechForge Media, pointed out, "No specific project involving Fetch.ai, IOTA, and Bosch has been announced, but it wouldn't be surprising to see the first real-world adoption coming from [a collaboration between] the three companies." The three are all working on similar systems that could work interdependently, which makes the future possibilities and collaborative opportunities truly exciting, to say the least. 
Fetch.ai x IOTA
So, what exactly will Fetch.ai and IOTA's collaboration bring to the table? According to the announcement, the two companies are coming together to deliver a controlled data sharing environment for IoT devices and infrastructures. The long-term ambition behind the project is to enable the automated, fee-less retrieval and private sharing of data. 
Essentially, this partnership will enable secure automated data sharing across IoT networks within many sectors. It'll be handy for companies when they're attempting to aggregate financial exchange rates in real-time, in DeFi applications, and it'll simplify immutable supply chain documentation by allowing the tracking and tracing of goods via autonomous economic agents connected to the IOTA Tangle. 
Humayun Sheikh, CEO of Fetch.ai, said:
"The fundamental goal of this collaboration is to enable granular control over data and to reduce the reliance on centralised systems that take advantage of data.
While there are numerous partnerships focusing on data privacy, this one adds the layer of economic benefit for stakeholders via autonomous economic agents without compromising data privacy.
Enabling these agents to perform "useful economic work" on behalf of individuals, businesses, companies, and other entities or organisations will speed up the adoption of Fetch.ai autonomous economic agents and IOTA Streams thereby allowing them to communicate with sophistication across industries like mobility, supply chain, IoT and more."
Holger Koether, Director of Partner Management at IOTA Foundation, added:
"The main feature of this partnership is offering a serious AI application for the devices that make up the machine economy on the IOTA and Fetch networks.
We are enabling data producers to take control over who can access the data they produce, whether from a mobile device, environment IoT sensor, connected vehicle, Industrial IoT solution, and a host of IoT-focused use cases.
With this partnership, we hope both the Fetch and IOTA communities expand the functionally of what devices can do autonomously on distributed networks."