Quant Strats
Thu 13 Oct - Thu 13 Oct, 2022
Park Plaza Victoria London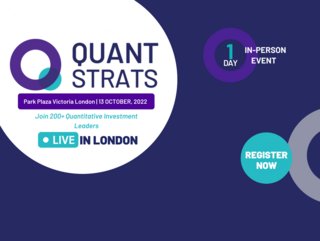 Generate Alpha. Manage Risk. Optimize Portfolios.
Be a part of the next quant revolution
It's been 3 whole years since the last time we ran our European edition of this event in person, and we're finally back.
During that time, quantitative investing strategies have been fraught with challenges, but the encouraging economic and fiscal environment that has prevailed in a post-pandemic world, shows us that quant investment strategies are having a resurgence. After such volatility and with the possibility of more unpredictable global challenges on the horizon, how are quant firms using innovative tools and technology to ensure continued returns on their investment?
Quant Strats 2022, previously AI and Data Science in Trading, will bring together the leading minds on quantitative investment strategies, from hedge funds, asset managers and investment banks. Learn and network in person, as over 40 speakers share their knowledge on applying model-based, quantitative investment strategies, leveraging technology and utilizing dynamic risk management to ensure increased returns.