Intelligent Automation Week Chicago 2022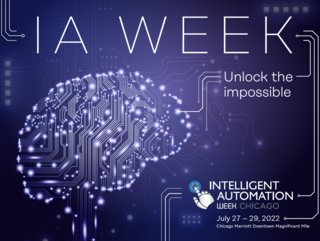 Intelligent Automation Week Chicago 2022 - July 27-29
Intelligent Automation Week Chicago 2022 (IA Week Chicago) is curating and delivering an agenda with the hottest topics and speakers in the IA, AI and RPA. Taking place July 27-29, 2022, at the Chicago Marriott Downtown Magnificent Mile, the leading event for all things to do with intelligent automation is back and in-person in just a few weeks.
The biggest names will be hosting interactive sessions on RPA Maintenance, Process Discovery, CoE Governance, API and
Machine Learning including experts from Colgate-Palmolive, First Horizon Bank, Stanley Black & Decker, Blue Cross Blue Shield, The Coca Cola Company, Southwest, Facebook, Petsmart, Toyota, McDonald's Corporation and more.
IA Week Chicago is holding exclusive experiences for your whole team. The first, an all-expenses-paid night of dining and cocktails at the critically acclaimed Nobu. The second, a night of team-bonding and friendly competition at TopGolf Swing Suite & Dinner. Enjoy great food, cocktails and company at these great networking experiences.
IA Week Chicago has something for everyone at all levels of maturity. IA Week Chicago houses the resources and tools to help everyone attending to grow. Don't miss the intelligent automation event of the summer, check out IA Week Chicago today! Click the link to the agenda: https://bit.ly/3OpTzn3.